Can you solve this riddle? What's something that can neither be seen nor touched and is mandatory for your bike to ride? Think about it!
Haven't you got the answer yet? Let me tell you, it's air. Air is the essential thing your bike tire needs; without it, your bike is useless. You need to check the air pressure in your bike's tires more than any other vehicle. It's because the cycle is the vehicle kids and adults ride the most.
On the other hand, there are different types of bikes, including mountain, road, hybrid, gravel, trek, and much more. Each bike has a specific air-filling requirement in the tires; if you overlook that, you can run yourself into danger.
Suppose you're riding a bike in the middle of nowhere, and its tires run out of air; what would you do then? How will you go back home? To avoid such a situation, you can dig into the bike tire pressure charts by size below.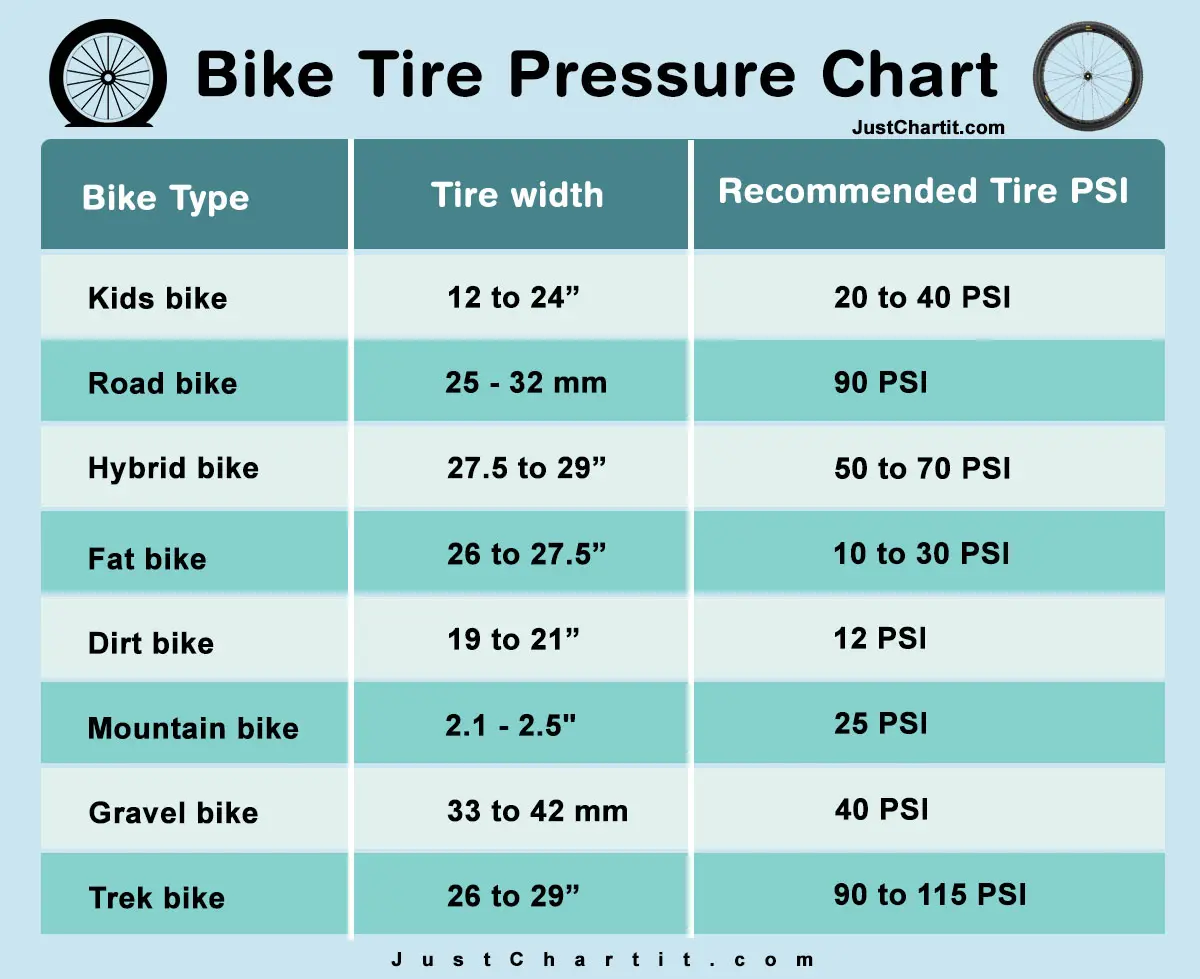 Recommended Bike Tire Pressure Chart
The table below teaches you the recommended width of your bike's tire according to a person's weight. The weight and tire width also suggests the recommended tire pressure.
| Tire width | Rider Weight | Recommended tire PSI |
| --- | --- | --- |
| 23 mm | 121 lbs (55 kg) | 95 psi |
| 23 mm | 176 lbs (80 kg) | 110 psi |
| 23 mm | 231 lbs (105 kg) | 130 psi |
| 28 mm | 121 lbs (55 kg) | 80 psi |
| 28 mm | 176 lbs (80 kg) | 92 psi |
| 28 mm | 231 lbs (105 kg) | 115 psi |
Ideal Bike Tire Pressure
When buying a bike, you come across various bikes on the market. Every bike has different requirements, including tire air pressure. To help you gain information, dwell on the bike tire pressure chart and further details below.
| Tire type | Tire width | Recommended PSI |
| --- | --- | --- |
| Kids bike tire | 12 to 24" | 20 to 40 PSI |
| Road bike tire | 25 – 32 mm | 90 PSI |
| Hybrid bike tire | 27.5 to 29" | 50 to 70 PSI |
| Fat bike tire | 26 to 27.5" | 10 to 30 PSI |
| Dirt bike tire | 19 to 21" | 12 PSI |
| Mountain bike tire | 2.1 – 2.5″ | 25 PSI |
| Gravel bike tire | 33 to 42 mm | 40 PSI |
| Trek bike tire | 26 to 29" | 90 to 115 PSI |
Kids Bike Tire Pressure: These bikes are for kids new to riding bikes. They can ride these bikes mostly on smooth terrains since they are mostly ridden within a home, so their tire's air pressure would be 20 and 40 psi. It's the pressure many well-known manufacturers recommend. If the kid rides a bike at a slow pace, the tires can then ride at 20 psi, but if they are fast riders, 40 psi is the correct number.
Road Bike Tire Pressure: Road bikes are made for riding over smooth surfaces. If the tires have higher air pressure, they can quickly roll on the terrain faster. Moreover, the maximum range for the air pressure in road bike tires would be between 80 to 130 psi. A quick tip: A road tyre can barely be compressed with your thumb at 100 psi. If you're stuck inflating one without a gauge and need to guess, remember this.
Hybrid Bike Tire Pressure: Hybrid bikes contain a touch of both mountain and road bikes. They are so sturdy one can ride them on a variety of terrains. If you have to go grocery shopping, you can ride it as a mountain bike, and if you're ascending the mountain track, you're good to go with it. As far as psi is concerned, keep it between 50 to 70.
Fat Bike Tire Pressure: If you love to ride a bike off-road such as on snow or sand, you must be familiar with a fat bike. It comes with big tires and has a durable structure. It delivers a soft and smooth ride in winter and gives you access to those tracks which are not accessible to others. Remember to keep the air pressure in its tires between 10 to 30 psi.
Dirt Bike Tire Pressure: Dirt bikes are made to get dirt and cruise through all terrain. It usually starts with the tires. When it comes to tires you need to be more concerned about their air pressure. These bike's tires function at 12 psi. Once you have this bike, you'll love it.
Mountain Bike Tire Pressure: Mountain bikes are made for riding on rough and bumpy terrains. Too much air pressure in the bike tires can make your ride jarring. Therefore, lower air pressure makes your ride easy and smooth, keeping you in traction and the tires in contact with the riad. Most manufacturers, including MTB, recommend 30 to 50-50 psi on their bikes. This is considered a nice balance between on-road and off-road rides.
Gravel Bike Tire Pressure: A gravel bike has a longer head tube and shorter reach. Also, it gives you a more upright riding position than a road bike. As a result, it provides comfortable long rides and allows you to shift your weight around to overcome off-road obstacles. The tire pressure for such bikes would be 40 psi.
Trek Bike Tire Pressure: Trek Hybrid bike is made for riding on various terrains, each having different requirements, tires and specific strengths. They're fantastic for exercise, transportation, exploration, leisure, and more. Additionally, each bike is built to make riding enjoyable and comfortable. Last but not least, the air pressure for their tires would be 90 to 115 psi.
FAQs
What should be the air pressure in my bike tires?
Your bike can roll quickly, ride smoothly, and avoid flats with the proper tyre pressure. Wide tyres require less air pressure than narrow tyres: Mountain bike tyres need 25 to 35 pounds per square inch, road tyres 80 to 130 pounds per square inch, and hybrid tyres 40 to 70 pounds per square inch.
What tire pressure should my kid's bike be?
Kids' bikes are often between 20 and 40 psi.
Why should the pressure be on mountain bike tires?
It depends on how you ride it, but the standard requirement is to keep the air pressure at 25 psi.
Conclusion
Bikes come in various shapes, structures, strengths and specifically sized tires. Each tire has spice requirements. You can ride some of them on the road while others are off-road.
On the other hand, you can ride some bikes both off-road and on-road. That being said, each bike's tires have different air pressure needs. Those requirements are given above in the table so you can fill your bike tires as needed.