Wheels are an essential part of a vehicle. Without them, a vehicle is incomplete. They help you ride on different terrains and show you a way to your destinations. With so many vehicles around, a bicycle is one of the most used by kids and adults.
If you have plans to gift your kids a bike or get yourself one for fitness purposes, you can easily find many on the market.
But what if you buy a bike of the right size with the wrong wheels? Your bike riding journey will turn into a nightmare if you do so. Many people have been through this, and you may be one of them. Therefore, we are here to help and guide you through and through. 
Here you will learn how to measure a bike's wheel and the methods of calculating a wheel. Without further ado, let's go through the guide below.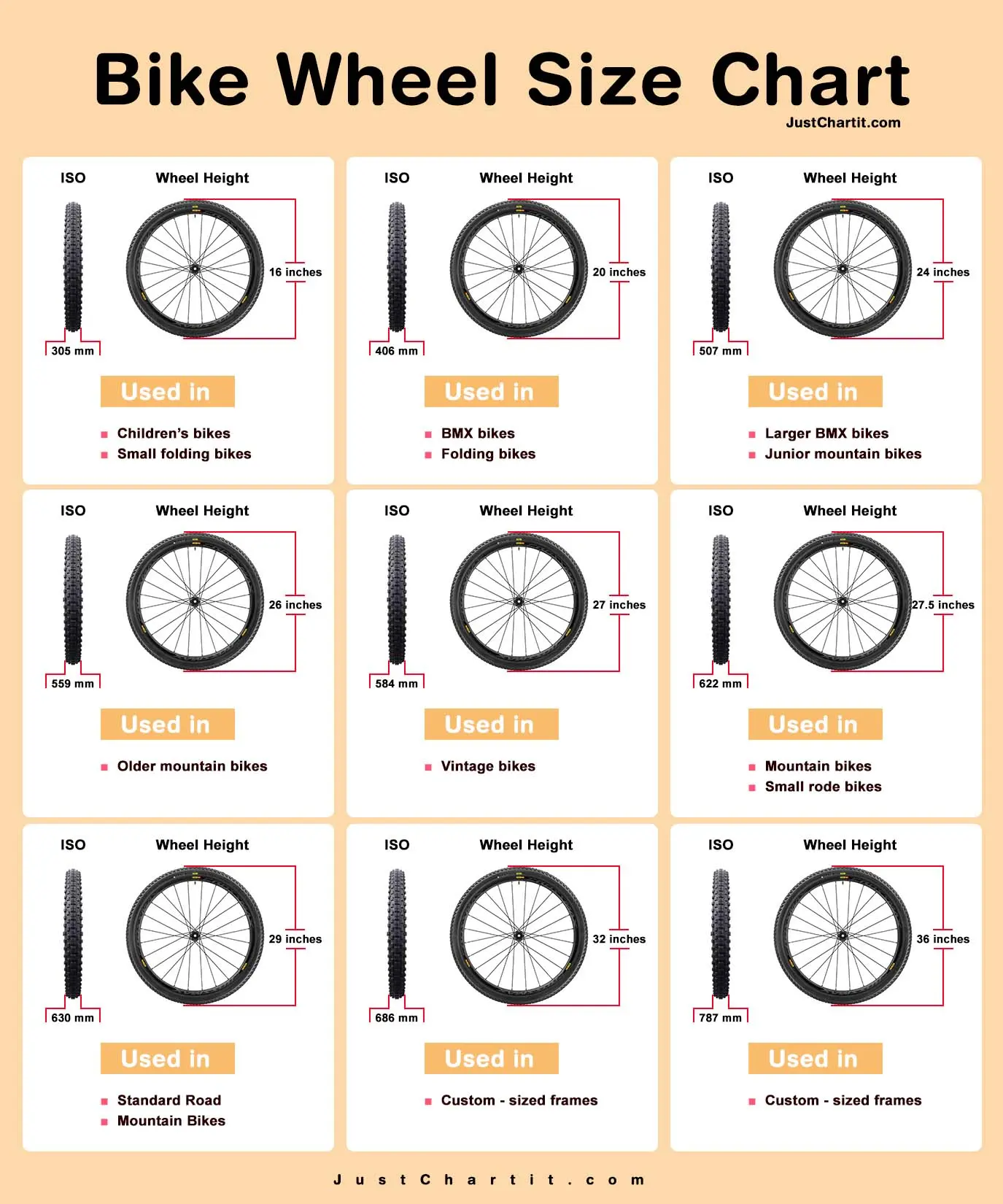 Most Known Bike Wheel Sizes
Bike wheel sizes come in different forms. You can see the chart below containing different wheel sizes. They all are standard measurements, and we have mentioned the American, ISO, and French sizes where applicable. You'll also know why these methods are used.
| US size | ISO | Use |
| --- | --- | --- |
| 16 Inches | 305 MM | Children's Bikes and small folding bikes |
| 20 Inches | 406 MM | BMX and Folding Bikes |
| 24 Inches | 507 MM | Larger BMX bikes or junior mountain bikes |
| 26 Inches | 559 MM | Cruise and older mountain bikes |
| 27 Inches | 584 MM | Vintage bikes |
| 27.5 Inches | 622 MM | Found on smaller road and gravel bikes as well as mountains |
| 29 Inches | 630 MM | Commonly Found on Standard Road and Mountain Bikes |
| 32 Inches | 686 MM | Custom – sized frames |
| 36 Inches | 787 MM | Custom-sized frames |
How to Pick the Right Wheel Size For Your Bike?
Suppose you want to know the correct wheel size for your bike. In that case, you can check one rim of the wheel. Sometimes, the size is mentioned on the rim, and if you don't find it there, you always have the option to visit the wheel manufacturer's website and check the size below the component and geometry of the wheel.
There you find the size of the rim. Then, you can buy the correct size wheels for your bike. However, if you still need help finding the proper calculations, you can visit a local bike shop and ask them to measure the wheels.
On the other hand, a bike mostly comes in the right size but getting the one according to your needs is more important. If you want, you can take help from the chart given above.
Methods of Measuring Bike Wheel Size Chart
There are different standard methods of measuring a bike's wheel. Every way measures a bicycle differently. One method will calculate in inches, while the other will do it in cm or mm. Those methods are explained below.
International Organization for Standardization
The ISO is the standard method for sizing wheels and tires. It was introduced by the European Tyre and Rim Technical Organization, also known as ETRTO. The ISO standard measures the diameter of the wheel in millimeters and not the dimensions of the tire that you put on.
The French Standard
The French Standard Method mainly applies to vintage bikes. The letters in the French Standard refer to the width of the wheel. For instance, a 700C tire is wider than a 700B tire. Similarly, a 700B tire is wider than a 700A. In addition, 700C is the most common size for road tires. Sometimes you'll see 650 Bs and 650 Cs as well.
The American Standard
The American Standard method refers to measuring the wheel size in inches. This method mainly applies to children and mountain bikes. So, if you see a 20″ or 24″ bike wheel on it, know which way is used on it.
Importance of Wheel Size
Knowing the right bike wheel size is important for many reasons. Some of them are given below.
Bike size and geometry play a significant role in wheel size. They significantly affect your bike frame. Smaller bikes will need smaller wheels and won't fit into a giant wheel in the bike's frame. Bikes that use size-based geometry use smaller wheels on smaller bikes and standard wheels on average frames. Moreover, you'll need a smaller wheel for a gravel bike so you can fit a wider tire into the same frame space.

Now comes road terrain. If the terrain you ride a bike on is bumpy, you'll need a bike having smaller wheels with wider tires. On the other hand, a larger wheel with a smaller tire would work if the road is smooth.

Brake type and bike type also affect the size of the wheel you will need. For example, disc brakes allow you to use bigger tires on your bike since they provide more space than rim brakes.
Also read: Bike Wheel Air Pressure Guide
FAQs
What size is a 26-inch bike wheel?
As with most bike wheel naming conventions, the term '26 inch' does not refer to the diameter of the wheel itself but rather the approximate outside diameter of the tire that fits this wheel size. The actual ISO diameter of a traditional 26″ wheel is 559 millimeters.
What height can you ride a 24-inch bike?
Youngsters and teenagers between the heights of 4'5″ and 4'9, often children aged seven and older, are the optimal age group for a 24-inch bike.
What do the terms "24" and "26" bikes mean?
The term "24-inch bike" refers to the wheel diameter and is frequently used to describe children's bikes. Most minor children's bikes feature 12-inch wheels, which increase in size steadily to 26-inches. Preteens and teenagers, as well as many classic adult bikes, typically ride 26″ wheel bikes.
Conclusion
Most of the time, you won't have to worry about a bike's wheel size because they come with a proper pair of wheels. However, if you still need clarification, you can always use the guide chart in this blog or get help from local bike sellers. Both things will guide you the best.