are you don't know the ring size of your kid?? don't worry you are in a right place. we have something for you that is a Children's ring size chart. This chart helps you to know what size ring is comfortable for your kid.
But there is little confusion in Ring size measuring units why?? because many countries have their measuring unit like in US ring size measure in Numbers but on the other hand Alfapatic units used in the UK.
But the good news is we convert international ring sizes for different countries Like USA and UK.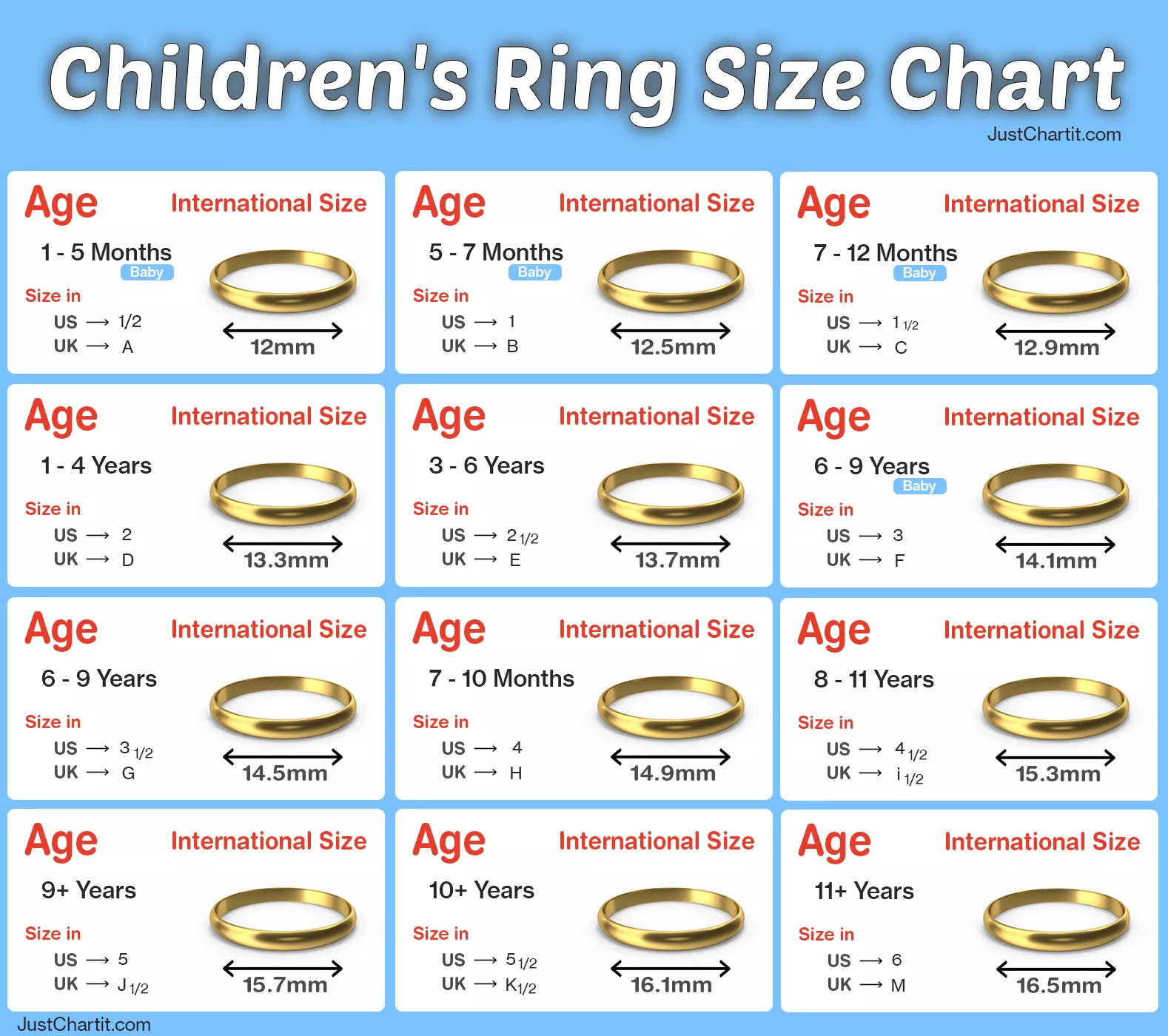 12mm Ring Size
12mm wide ring is only for newly born babies to 5 months old. The size of the ring is very small.it is very hard to find a ring below this size.
But jeweler made this size on special order. International ring size 12mm is equal to "1/2" in US and "A" in the UK.
12.5mm Ring Size
This size is good for a 5 to 7 months baby. but if a 12mm size ring is tight for your baby you can use a 12.1mm ring. because some babies are born healthy.
Mentioned size is not too loose nor too tight and you can easily find Gold and Silver rings in the market. 12.5mm is equal to "1" in the US and "B" in the UK.
Also read: Gucci Ring Size Chart
12.9mm Ring Size
1 to 6 Years old kids can wear this ring. Because 12.9mm size is not too loose nor too tight and stays on the finger when kids move their hands quickly during playing games. This size is equal to "1 1/2" in the US and "C" in the UK.
13.3mm Ring Size
13mm wide diameter ring is finger-friendly for 4-year-old kids. They play with this ring without irritation. This size is equal to "2" in the US and "D" in the UK.
13.7mm Ring Size
3 to 5 Years old Kids are sensible and explore things every new objects grab the attention of the kid. In that case, if your kid wears this 13.7mm ring.
it will not bother your baby. If your kid wears a tight ring it can irritate the kid and they are always trying to take off the ring. This size is equal to "2 1/2" in the US and "E" in the UK.
14.1mm Ring Size
this size is comfortable for 6 – 7 years kids. 14.1mm size ring should be made up of silver or gold. At this age, the brain of kids are developing social skills and they want to look good in their friend's circle. it gives him confidence in his social life.
14.5mm Ring Size
This size is for 6 to 9 years old healthy children. 14.5mm is equal to 1.45cm in the US "3 1/2" and "G" in the UK.
Also read: Kids Bangle Size Chart
What size ring does 5-year-old wear?
Ring sizes from 14.1 mm to 14.9mm can be worn by a 5-year-old child. But if the baby weighs more than the normal BMI, you can wear a 15.1mm ring.
| International Size | cm | US | UK |
| --- | --- | --- | --- |
| 14.1mm | 1.41 | 3 | F |
| 14.5mm | 1.45 | 3 ¼ | G |
| 14.9mm | 1.49 | 4 | H |
| 15.1mm | 1.51 | 4 ¼ | H ½ |