Adding chili and spice to the body can make your body healthier and perfect. It brings more enjoyment to your tastes and lives. The chili calories chart of some widely used chilies areas: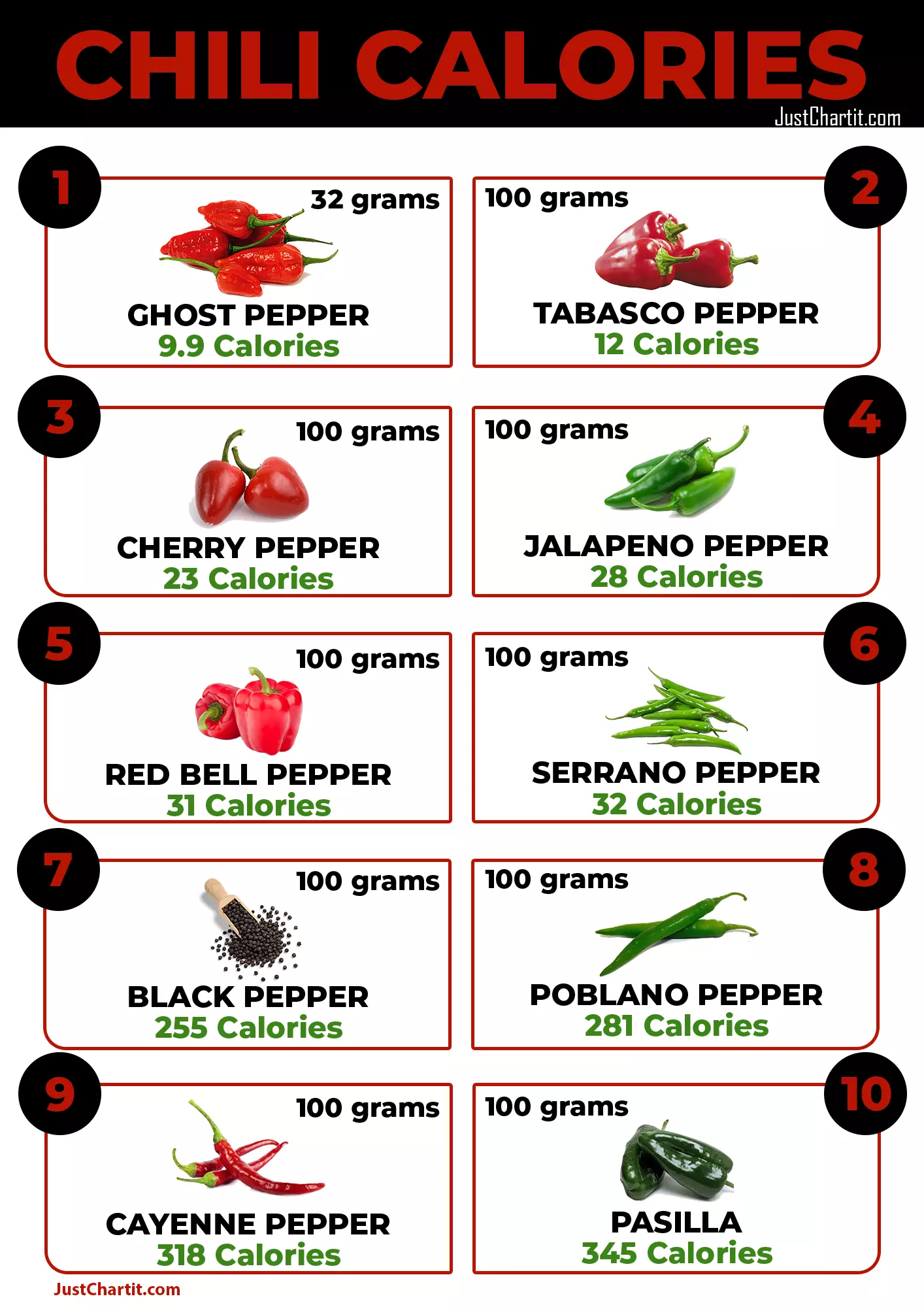 Calories in Ghost Pepper
32 grams of ghost pepper contain only 9.9 calories. 2 grams of carbs are naturally present in it. There is no fat or protein content in ghost pepper.
The amount of sodium is 110 mg. It contains a variety of vitamins and minerals such as Vitamin C 2.4 mg, Calcium 9.8 mg, and also Vitamin A.
Consuming ghost pepper gives a rich amount of vitamins that are good for eyesight. It is a marvelous gift of nature that can prevent many diseases. Its spiciness, refreshing aroma, and healthy properties make it the best chili.
Calories in Tabasco Pepper
100 grams of Tabasco pepper contain only 12 calories. The sodium content in the spice is 633 mg. It contains a wide range of minerals and vitamins.
The antioxidant amount is rich in this widely used spice. 82 mcg of Vitamin A and 4.5 mg of Vitamin C can be taken from this quite healthy spice.
100 grams of Tabasco pepper contains a minor amount of calories and fat content. This spice has a valuable space in a healthy eating plan. This spice suppresses the appetite and helps in the weight loss journey.
Calories in Cherry Pepper
100 grams of cherry pepper have 23 calories, 14 mg sodium, 1.1 grams of protein, and many essential Vitamins and minerals.
The whole chili calories of this pepper contain 141 percent of Vitamin C which is very healthy. It is rich in iron content and Vitamin B6, which help in blood formation and develop healthy taste buds.
Cherry pepper contains a healthy amount of antioxidants and helps in the prevention of many health risks. Pepper boosts eye health and the rest prevents anemia due to iron content.
Also Read: High Calories Food Chart
Calories in Jalapeno Pepper
100 grams of jalapeno gives you 29 calories and 2.8 grams of fiber. The amount of Vitamin A is 1078 IU while Vitamin C is 118 mg.
The high amount of Vitamin E is 3.58 and Vitamin K is 18.5 mcg giving the skin a radiant and firmer texture.
Jalapeno is the all-time favorite chili of the ages. It is extremely low in calories but abounds with healthy nutrients such as vitamins, minerals, fiber, and antioxidants.
It is rich in vitamins A and C regulates the body and boosts the immune system. It is also loaded with Vitamin B6, which helps in several body regulation systems. 
Calories of Red Bell Pepper
Red bell peppers are also named sweet paper because of their sweetness. The rich amount of Vitamin C and antioxidants make it an excellent addition to the diet.
100 grams of bell pepper gives you only 31 calories, the water content in this pepper is 92 percent. It gives you 6 grams of carbs, 2 grams of fiber, and 4.2 grams of sugar. It is also an additional source of fiber.
The antioxidants present in bell pepper are associated with many health benefits such as helping in promoting eyesight. It prevents anemia and regulates skin glow.
Also read: Explore the Calorie Content in Foods with this Chart
Calories in Serrano Pepper
Serano gives 34 calories with a minimal amount of fats and protein. But it is bound in vitamins and minerals. The sodium content in Serrano is 11 mg.
It also contains a decent amount of fiber which is 3.9 grams. The spice has a high amount of zinc, iron, folate, Vitamin K, and many more.
This spice has a soothing effect and relieves deep pains in the body. It also aids in weight loss and is responsible for good digestion.
Calories in Black Pepper
Black pepper contains 255 calories in 100 grams. It contains 3.2 grams of fat and 64 grams of carbs. The protein content in black pepper is 10.9, which is quite enough.
It gives a decent amount of fiber 26.5 grams that regulate the digestive system. It is rich in vitamins A, C, potassium, and iron. 
Black pepper has anti-inflammatory properties that have a positive effect on the body. It is used as a flavor enhancer but also offers health benefits.
It boosts up the immune system and prevents you from illness. It also regulates your digestive health.
Calories in Poblano Pepper
The poblano pepper is widely used in food as a spice but it has many benefits. It is smaller in size but gives you 255 calories.
The amount of fat in it is about 8 grams and gives 51 grams of carbohydrates. The potassium amount in poblano is much higher which is 2411 mg.
It gives you a sufficient amount of iron, Vitamin B6, magnesium, and Vitamin C. It is low in calories but rich in fiber and several micronutrients.
The antioxidant in poblano pepper prevents many conditions caused due to oxidative stress. It also has an anti-cancer effect and also improves the immune system.
Calories in Cayenne Pepper
Cayenne pepper gives you 318 calories, 17 grams of fat, and 30 mg of sodium. It has a decent amount of fiber which is 27 grams in total.
Cayenne pepper is rich in health-boosting vitamins and minerals which include Vitamin C, B6, iron, calcium, and magnesium.
The bright red color of cayenne pepper gives you health-promoting benefits. It has antibacterial and anti-diabetic properties.
The vitamin C in the pepper develops resistance against diseases and protects from many skin issues. It also regulates the blood thoroughly which makes the body glow.
Calories in Pasilla
Pasilla belongs to a chili family but is quite different in appearance. 100 grams of pasilla provides only 345 calories in total.
A small amount of protein is 12.3 grams. It offers 26.8 grams of total fiber. It contains multivitamins that boost health in several ways.
Vitamin B6 is present in the pasilla and aids in proper brain functioning. It promotes healthy eyesight and prevents blindness. The fiber in it prevents many heart conditions and decreases the chances of hypertension.
All the spices have many different health advantages. Everyone must have these spices in food to make it more nutritious and tasty.
We should utilize the spices according to their chili calories chart that makes you fit and healthy in all ways.