Giant is the world's largest bike manufacturing company. It manufactures bikes for many bike brands and not only brands but some popular ones such as Trek.
As the company manufactures bikes for another brand, it also launches its bike. Quality Wise might not be able to beat some popular brands, but they do fall in the famous bike brand list.
Yet, they are the world's largest bike manufacturers. History shows that this company began as a frame manufacturer only.
But later on, as they gathered fame in the market, they started to engineer and launch their models with the Giant's tag. Like Trek, they manufacture all kinds of bikes, such as mountains, roads, and many others.
Their primary focus nowadays is to bring innovations to their bikes so they will be on the top of the bike branding list in the upcoming time.
The size of a giant bike is obtainable from a Giant bike size chart as their sizing technique is alphabetical rather than numerical. If we compare Giant to other brands, what is the thing that makes it different from its competitors?
Other brands outsource their manufacturing or buy raw materials from the market. At the same time, Giant owns it, which is the significant difference between Giant and its competitors.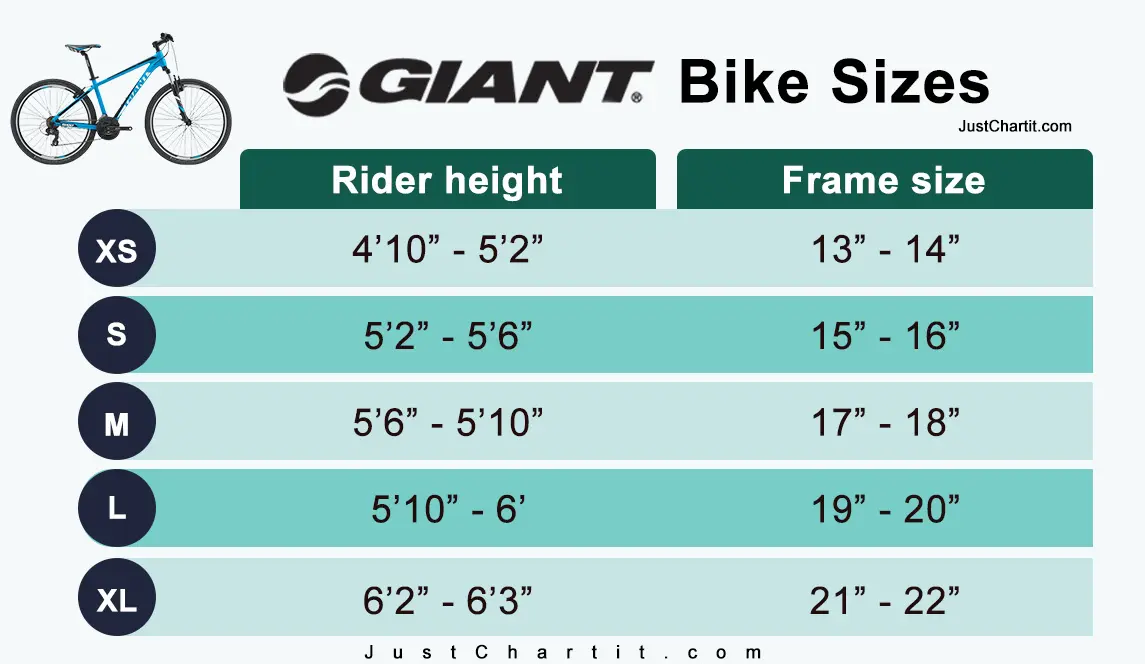 | Rider height | Frame size (inches) | Bike size |
| --- | --- | --- |
| 4'10" – 5'2" | 13" – 14" | X-Small |
| 5'2" – 5'6" | 15" – 16" | Small |
| 5'6" – 5'10" | 17" – 18" | Medium |
Giant TCR Size
TCR stands for total compact road. This bike is a road bike manufactured by a giant. The Giant TCR is a bike with a stiffer and petite frame, like a regular road bike. In terms of speed, you will have to harness 100% of your effort to achieve a reasonable speed. It is unsuitable for speeding as it makes you uncomfortable and tired.
Due to its stiff frame, the bike falls into an uncomfortable list. The cycle uses off-road biking but for trained athletes with experience. For a regular individual, this bike might not fit according to their needs. Sizing of a giant bike ranges from extra small to extra large hence it is possible to find your size if you look for a Giant TCR bike.
| Rider height | Frame size (inches) | Bike size |
| --- | --- | --- |
| 5'10" – 6' | 19" – 20" | Large |
| 6'2" – 6'3" | 21" – 22" | X-Large |
Giant Defy Size
Defy is also a road bike kind, but this bike's purpose is long-route rides. A Giant Defy bike consists of a composite frame specially designed to give you a smooth ride while road riding and less fatigue during long rides. The seat and tires are an essential factor of the bike as they absorb road vibrations and bumps.
Comfort and stability are the main focus of a giant defy bike. The sizing of a Giant Defy bike can be different from others. A Giant bike-size guide might come in handy for the customers to find the best bike size.
| Rider height | Frame size (inches) | Bike size |
| --- | --- | --- |
| 6'2" – 6'3" | 21" – 22" | X-Large |
| 6'4" & above | 22" – 24" | XX-Large |
Giant Mountain Bike Size
Giant is a massive player in the mountain bike world about bike manufacturing quality. As there are different types of road bikes, there are several mountain bikes that Giant manufactures. Every bike has its quality. Hence one must know what kind of bike one wants.
However, the giant mountain bike guide is there to help customers understand what type of bike they are buying. The Guide helps the person to have an idea about the different sizes, styles, and many other aspects of the cycle.
Also read: BMX Bike Size Chart
Giant Trance Size
This bike is the best giant mountain bike manufactured ever, and due to its capabilities which are hard riding, riding on steep climbs to rowdy descents, there is almost nothing this bike can't do.
This bike is a pure blend of efficiency and quickness. The framework of this bike is a lightweight yet super strong aluminum frame. The cycle's updated suspension helps the bike soak up the large or minor bumps.
Once you ride the bike, you will feel the control and quickness required on a rugged surface, making the bike more special.
Although the cycle might not be the best because of technology, in some areas, it beats some of the best ones, such as its aluminum framework for giant mountain bikes instead of any other bike.
The robust framework is the main reason behind such efficient control and quickness of the bike. The Giant frame size, bike size, and everything are available in the Giant bike guide.
| Rider height | Frame size (inches) | Bike size |
| --- | --- | --- |
| 5'2"-5'6" | 17"-18" | Medium |
| 5'10"-6' | 19"-20" | Large |
Giant Escape Size
A giant escape bike, a hybrid bike purpose of which is for regular use, like riding to work riding for health, even though if one wants to take it away for an adventure ride, this bike can do all this.
The main factor a person looks for in such a bike is comfort first, then size. Now a Giant escape bike has a lightweight framework and smooth-rolling tires, making the ride comfortable, which is the main thing a person looks for in such a bike.
The frame design allows the rider to be upright, making the ride efficient and smooth. The bike is also jam-packed with a wide range of gears, which allows a rider to increase speed and tackle hilly areas and bumps with much control and efficiency.
One of the most critical factors that make this bike comfier and more reliable than other bikes is its puncture-resistant tires. The sizes available for Giant escape are in the bike size guide or the Giant bike size chart.
| Rider height | Frame size (inches) | Bike size |
| --- | --- | --- |
| 5'10" – 6' | 19" – 20" | Large |
| 5'2" – 5'6" | 15" – 16" | Small |
FAQ's
What do the numbers on Giant bikes mean?
The Stance 29 1, which costs more, is the most expensive variant. The '29' in the name indicates the wheel size (all names without the '29' indicate that the bike is on 650b wheels). A bike has more high-end components when the number at the end of its name is lower.
How do I know what size of giant bike I need?
It's simple to select the proper size Giant bike. Take a height and inside leg measurement first (inseam). Then, determine the size table for the Giant bike you want to purchase by looking at the size tables below. Now, determine the size that will fit you the best using your height and inside leg measurements.
What height is a 26-inch bike for?
Adult bikes often come in the 26-inch size. Most 5′ and taller riders can fit on bikes with 26″ wheels without any problems. Riders over 5'5″, however, may benefit more from the slightly larger 27.5″ or 29″ models, which provide more traction and stability.
Conclusion
Giant is a world-leading manufacturing bike company that used to manufacture bikes for other brands.
Giant, now itself, is a bike brand manufacturing its bikes and ranks among some of the best bike brands. The only thing that gives it an edge over its competitors is that others outsource their bike manufacturing, whereas Giant owns it.
The company ensures the manufacturing of every kind of bike in every size. Fulfilling all the requirements to achieve the goals expected from a cycle.
A Giant propel size chart, Giant bike guide, and Giant bike size chart are some factors that prove helpful for the customers to find the best size.