Understanding the many sorts of shoe heels may help any lady take control of her unique style. Shoe heels are available in various styles that show their rich history and growth.
In reality, before they became linked with gender and femininity, heels were initially designed as functional footwear for men.
Owning a variety of heels is still a vital signal of wealth and respect today. For example, socialite and former first lady Imelda Marcos is said to have 3,000 pairs of heels.
Whether you want to embrace your inner fashionista or change your collection for the season, a glance at the various types of shoe heels will assist you in creating a shoe cabinet fit for a queen.
Below is the heel height chart intro with heel measurements mentioned.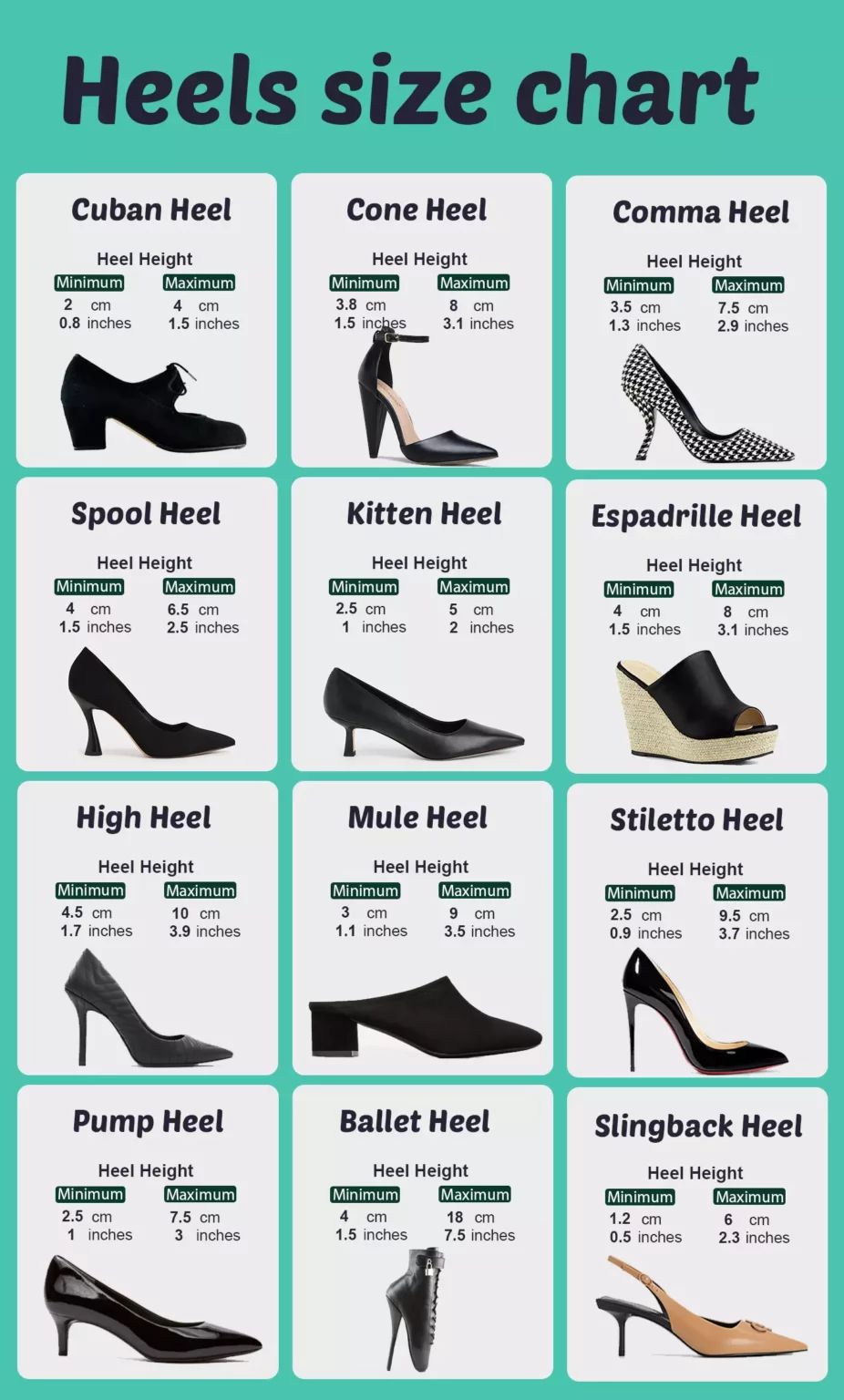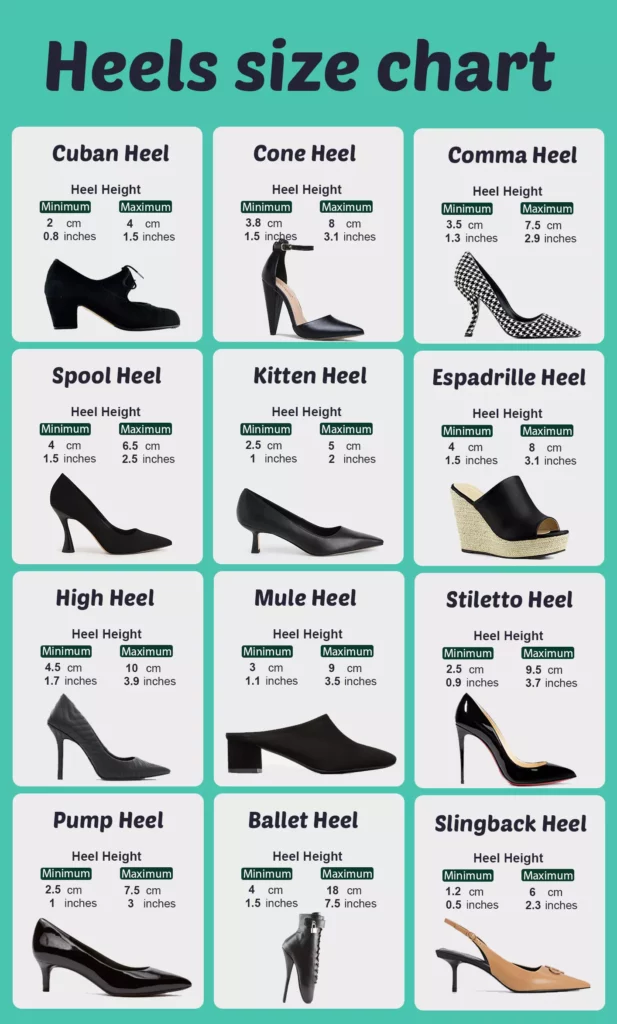 Comma heels
As the name implies, Comma heels are similar to the famous punctuation mark. The comma form may face either way to provide an edgy twist to pumps or boots. The crescent form of these heels is appropriate for any occasion, whether strolling on carpet or pavement.
Heel height
Heels sizes in cm and inches are as follows:
Maximum: 7.5 cm or 2.9 inches
Minimum: 3.5 cm or 1.3 inches
Cone heels
Cone heels, also termed tapered heels, are broad towards the sole and shrink to a point near the base. The solid top half of the cone heel gives a firm base for your foot, while the graceful tip adds beauty and confidence to your steps.
Heel height
Maximum: 8 cm or 3.1 inches
Minimum: 3.8 cm or 1.5 inches
Also read: Slipper Size Chart
Cuban heels
With Cuban heels, you can show off your stunning gender style. This footwear offers height to the same design of Cuban shoes found in the stylish male outfit.
This heel looks fantastic in both casual and dress settings, like a combination between an ankle boot and an oxford or loafer. Most designers chose a deeper heel than the top half and thinned near the bottom.
Heel height
Maximum: 4 cm or 1.5 inches
Minimum: 2 cm or 0.8 inches
Spool heels
Spool heels reflect a cylindrical threaded package. A spool-style shoe's heel is thick at the foot, tapered in the center, and then thicker again at the very bottom.
This design, popularized throughout the Baroque and Rococo eras, is the easiest way to add charm and luxury to your appearance with no effort.
Heel height
Maximum: 6.5 cm or 2.5 inches
Minimum: 4 cm or 1.5 inches
Espadrille heels
Espadrille heels have fabric or canvas uppers and plaited bottoms consisting of fiber or esparto rope. The espadrille heel, a descendent of the Spanish labor shoe, is ideal for informal activities and social situations.
Heel height
Maximum: 8 cm or 3.1 inches
Minimum: 4 cm or 1.5 inches
Also read: Nike Jordan Size Chart
Kitten heels
These heels are delicate enough to create a stylish look while still allowing you to escape too much pain if you are on your feet for an extended period. Kitten heels have a narrow, sensitive stem and are always less than three inches tall.
Heel height
Maximum: 5 cm or 2 inches
Minimum: 2.5 cm or 1 inch
Mule heel
Mules are any heel where the shoe's tongue touches the top of the foot. These shoes, either open or closed-toe, are an excellent choice for people who wish to show off their footwear's gorgeous fabric or canvas.
These shoes are stunning in soft Moroccan leather or suede patterns, and they are also simple to slide on and off for effortless wear.
Heel height
Maximum: 9 cm or 3.5 inches
Minimum: 3 cm or 1.1 inches
Also read: Shoe Size Chart for Women
Slingback heel
A strap wraps over the rear of the Achilles heel in this design. The practical design assists ladies in achieving a stylish, attractive image.
Slingback heels are fantastic items to maintain in your fashion collection if you want to stretch the look of your legs or show off your fashion expertise. The Slingback heel size chart is as follows:
Heel height
Maximum: 6 cm or 2.3 inches
Minimum: 1.2 cm or 0.5 inches
Pump heel
Pumps are another iconic item that every woman must get. You'll see how a classic pair of black or nude pumps will soon be your go-to all-rounder: they're ideal for your weekly 9-to-5 but can also be easily coupled with a pair of pants or a ball gown for social occasions.
Heel height
Maximum: 7.5 cm or 3 inches
Minimum: 2.5 cm or 1 inch
Stiletto heel
These trendy heels may extend up to eight inches in height and are named after Italian slang for a tiny dagger. Stilettos, according to several stylists, may thin and extend the legs.
Many stilettos are built with a platform front to prevent breaking. Whether you're getting ready for a romantic date or going clubbing with buddies, a gorgeous pair of stilettos can help you express your inner party girl.
Heel height
Here is the stiletto heel size guide:
Maximum: 9.5 cm or 3.7 inches
Minimum: 2.5 cm or 0.9 inches
Ballet heel
Ballet shoes, often known as ballet slippers, are small and light shoes. Ballet shoes have thin soles for greater flexibility. They are tightly attached to the foot and fastened with elastic to provide maximum safety. Ballet slippers might feature a single band across the base of the foot or two crossing strands at the tip of the arch.
Heel height
Maximum: 18 cm or 7.5 inches
Minimum: 4 cm or 1.5 inches
High heel
High-heeled shoes often described as high heels or just heels, are a shoe with a tall or high heel, causing the wearer's foot's heel to be much higher off the floor than the wearer's toes. High heels help the wearer look taller, highlight leg muscle tone, and make the wearer's legs look longer.
Heel height
The High heel size chart is:
Maximum: 10 cm or 3.9 inches
Minimum: 4.5 cm or 1.7 inches
FAQs
Is heel the size same as shoe size?
When wearing high heel shoes with a height difference of more than one to two inches, your feet will likely be forced forward in your shoes. If you're unsure of your actual size, spend the time and effort to get a precise measurement.
Then, to prevent what we term "the onion bunion effect," buy a size larger than you typically wear. The following is an acceptable formula:
Choose a 1/2 size bigger for high heels measuring 2 to 3 1/2 inches.
Move up one full size for high heels ranging from 4 to 6 inches.
For high heels 6 1/2 inches and up, go one and a half sizes up.