Indian food provides a vast range of tastes to tantalize your taste buds, and to enjoy the local delicacies. It offers the best authentic food and a variety of foods to both vegetarians and non-vegetarians.
In India, a large number of people are vegetarians, who follow vegetarian diets. They are very healthy, but sometimes lack some elements like proteins and vitamin B12.
Many of us think that there are not enough choices for vegetarians in food to get proper proteins, which is actually wrong.
As it's generally said that non-veg foods are a rich source of protein. But, there is also a large number of foods that provide enough protein.
Proteins are vital to your body and help you perform a number of functions, especially the growth and creation of body cells.
Moreover, proteins make up 17% of the total human body weight. Although the rich sources of protein are poultry, fish, milk, egg, meat, and cheese, vegetarians can also fulfill their protein needs by consuming a diet high in protein.
This article will help you explore the best protein-rich Indian foods, and different items in their meals.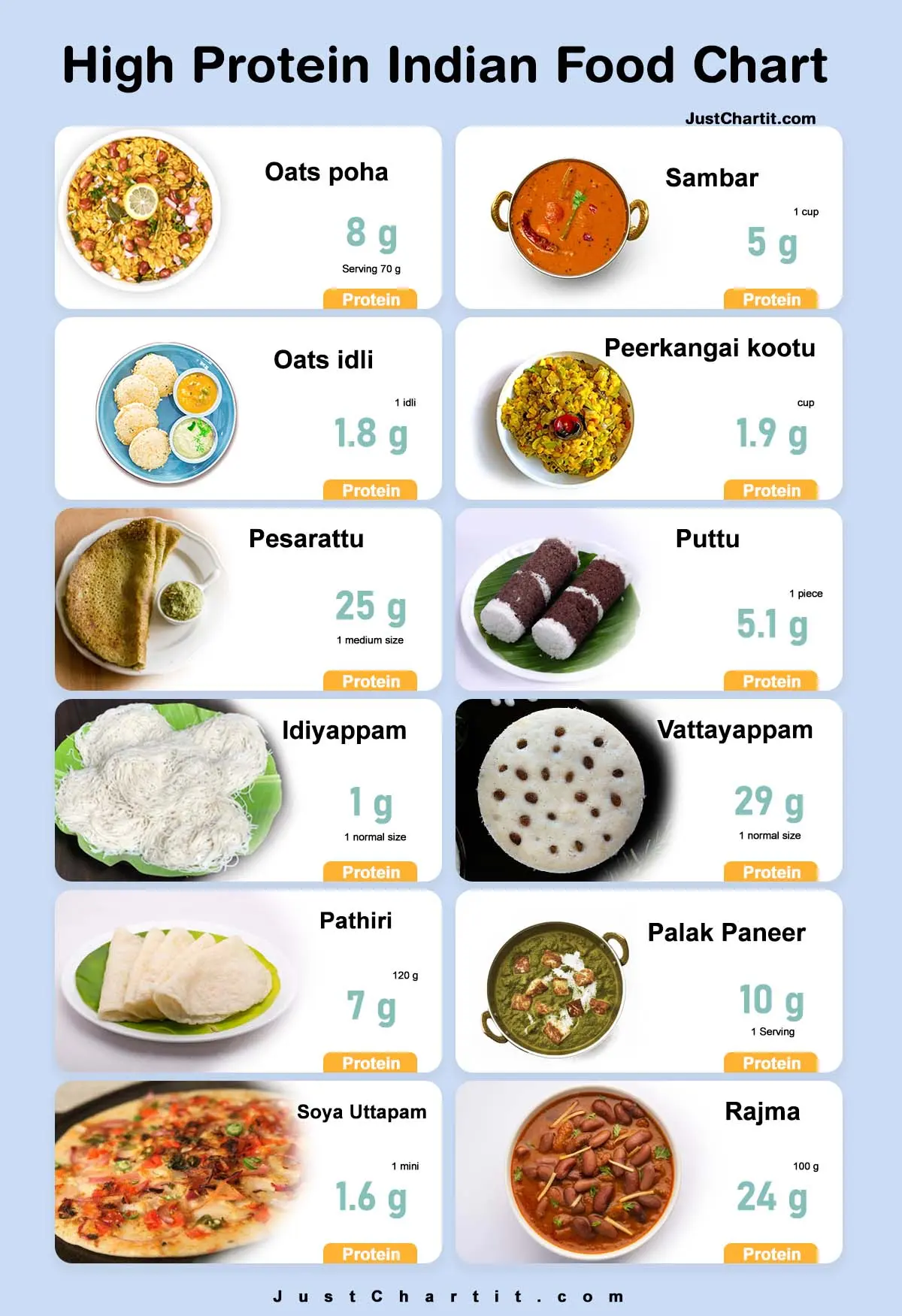 Protein Rich Indian Food Chart
As we know that meat and eggs have a good quality of protein, there is a misconception that a vegetarian meal has a short choice in this regard.
Though many vegetarians switch to protein powder as a source of nutrients, veg-food can be a great source of protein too. Through these protein-rich Indian foods, vegetarians can meet their daily protein needs even without meat. Below is a high-protein Indian food list.
Chickpea or commonly Channa has a unique nutritional composition. It provides up to 729 calories from one cup, 40% fiber, 22% of iron, and 70% folate. Additionally, it's a good source of protein, carbohydrates, and fats.
Kidney beans, or rajma in combination with rice is the most popular, and favorite dish in India. Kidney beans are the best source of protein, carbohydrates, and fiber.
Milk is no doubt a wholesome protein source. Fortified with vitamin D, it strengthens bones, teeth, and a healthy immune system.
Cottage cheese, or paneer is as favorite of Indians as cheese is to the whole world. It's good in casein, and calcium, and helps you burn fat. Palak paneer, matar paneer, and paneer makhani are well-known dishes among Indians.
Lentils, or dal is a part of every meal of Indians, whether it's moong, arhar, or urad. Dal chawal, dal with roti, or dal makhani are famous.
Matar paneer, for boosting the immune system, is the best and most edible item of India. Protein and fiber can be obtained by matar.
Different types of seeds, or mixed seeds, from sesame, pumpkin, poppy seeds, or sunflower seeds, have protein and healthy fats. Adding them to the meals, and salads can add crunch, and is healthy.
| Foods | Serving in cups | Protein in grams |
| --- | --- | --- |
| Chickpea (Channa) | ½ | 7.3 |
| Kidney beans (rajma) | ½ | 7.5 |
| Milk | 1 | 8 |
| Cottage cheese (paneer) | ½ | 14 |
| Lentils (daal) | ½ | 9 |
| Green peas (Matar) | 1 | 7 |
| Mixed seeds | ¼ | 5-7.3 |
Protein Rich South Indian Food
South Indian cuisine is diverse and is one of the most balanced cuisines. There are plenty of South Indian dishes which are good enough sources of protein.
Moreover, south Indian cuisine is known as the gamut of snacks. Here are some top 5 South Indian dishes, packed with protein that you can include in your healthy diet.
| South Indian foods | Health benefits |
| --- | --- |
| Soya Uttapam | An excellent alternative to meat for protein intake. Soya Uttapam is a pancake-like dish, topped with chilies, herbs, and vegetables with a soya edge given. |
| Pesarattu | Idli is one of the healthiest Indian snacks. The steaming process makes it a healthy and less calorie meal. It's made with high-protein oats, carrots, urad dal, and more. |
| Oats idli | An excellent alternative to meat for protein intake. Soya Uttapam is a pancake-like dish, topped with chilies, herbs, and vegetables with a soya edge given. |
| Peerkangai kootu | An excellent alternative to meat for protein intake. Soya Uttapam is a pancake-like dish, topped with chilies, herbs, and vegetables with a soya edge. |
| Sambar | A good source of plant-based protein, fiber, and antioxidants, is made with lentils. Indians eat it with idli, vada, uttapams, rice, and many more. |
High Protein Indian Snacks
Because of the fast-paced lifestyle, most people do not have time to sit down and have a hearty meal, especially in the morning.
This is the reason, they should consider having Indian protein snacks that are light and easy on the stomach, and they will boost their energy levels and keep them happy. Following easy and hurry to make snacks are.
Roasted chickpeas
Idli
Besan chilla
Seeds
Makhana
Nuts
Dosa
Popcorn
Protein Rich Indian Vegetarian Food
Vegetarians completely depend on plant-based proteins to meet their daily protein requirements. Below are some high protein alternate sources, such as.
Lentils
Legumes
Nuts
Quinoa
Soy milk
Oats
Chia seeds
Fruits and vegetables
Edamame
Wild rice
Brussels sprouts
Sweet corn
Avocado
Also read: Protein Absorption Time
Protein-Rich Kerala Foods
There is no compromise for healthy and protein-rich foods. Kerala is the best option for healthy foods because it's the only place where healthy cuisines and beauty meet together.
The whole day food routine of these people contains protein-rich foods. The famous healthy and protein-rich foods in Kerala include.
Puttu
Idiyappam
Appam
Idli and dosa
Vattayappam
Pathiri
Avial
Pan-fried Tilapia
Rajma
Protein-Rich Indian Breakfast
A famous saying is that "Breakfast is the very first meal of the day". The breakfast should be more than enough to fulfill your daily nutrition requirements.
A breakfast based on more protein is the best one to level up your energy. Indian high-protein breakfast provides many great options for people to enjoy the best taste and delicious textures. Some top Indian protein breakfasts include.
Protein-rich Indian breakfast items list
Paneer stuffed moong dal cheela
Steamed or fermented idli
Sprouts salad
Ragi beet chapati
Vegetable Dalia
Quinoa khichdi
Vegetable upma
Bajra khichdi
Tofu/Paneer bhurji
Khobha paranthas
Oats poha
Masala omelet
Also read: Dal protein chart
Conclusion
As you all know, people in India are mostly vegetarians and opt for a vegetarian diet rather than non-veg foods. On the other hand, non-veg food has good-quality protein and other nutrients.
Due to this, many alternatives are available to fulfill the protein requirements of Indian people. Indians provide a wide variety of diets that are healthy, and high in protein.
This article contains a number of protein-rich Indian food, and protein-rich Indian dishes that are healthy, and help keep the required nutrition track in a proper way.