A keto diet is based on nutrient-rich foods such as butter, olive oil, fish, eggs, meat, and non-starchy vegetables. The Keto diet is a low-carb diet in which you must avoid rice, potatoes, bread, sweets, and other high-carb foods.
Eating keto foods helps reduce weight and also protects against chronic diseases. These foods will improve your health and make you feel better without counting calories. You can also consume various fruits, vegetables, and even nuts on a keto diet. As hard as it may seem, you don't have to starve yourself to lose weight on a keto diet.
If you are convinced to switch to a keto diet to lose weight and stay healthy, then let's find various keto-friendly foods. Read more about the different keto meal ideas and keto food charts to help bring variety to your table.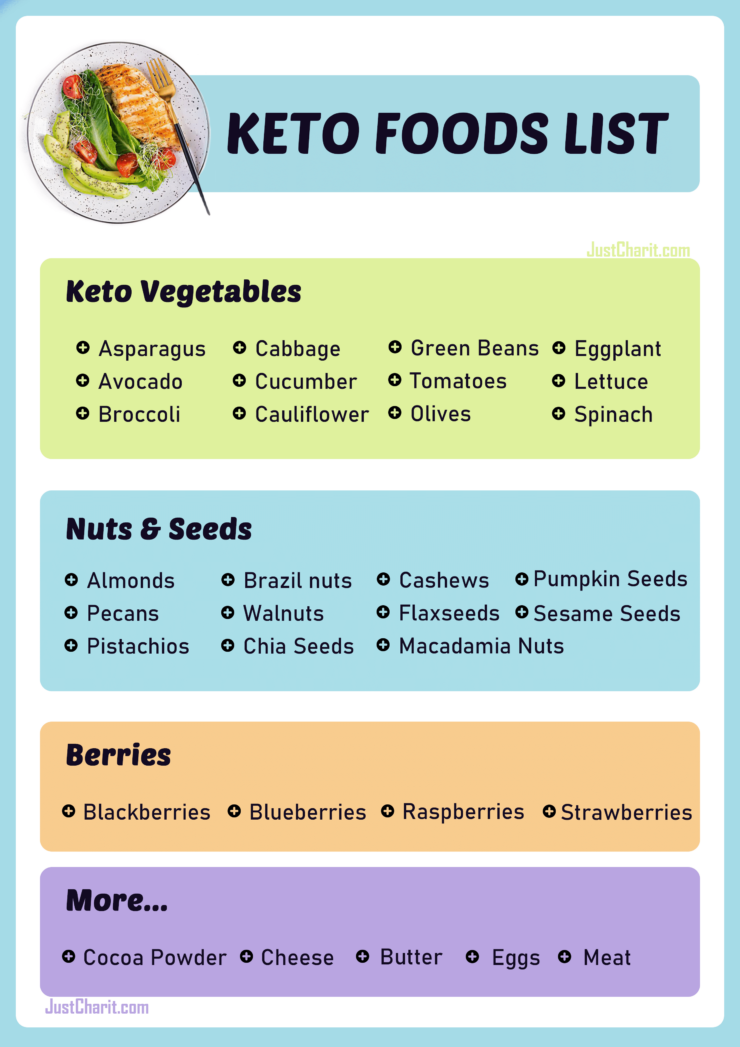 What Are The Top 5 Keto Foods?
A Keto chart is a handy tool to help you on your low-carb journey. You might have some idea about the foods to eat on a keto diet, but for more precision, it's best to consult the chart to stay on track.
The keto food chart will tell you the top 5 keto foods with the most nutritional value and less fat content. So, let's get on to it right away!
| Keto Foods | Serving size | Carb content |
| --- | --- | --- |
| Egg | 1 large | 0.6 g |
| Olives | 28 g | 2 g |
| Beef | 1 oz (28.3 g) | 0 g |
| Poultry | 1 oz (28.3 g) | 0 g |
| Gruyere cheese | 1 oz (28.3 g) | 0.1 g |
Also Read: Magnesium Rich Foods Chart
Are eggs keto friendly
The egg is a superfood loaded with thirteen essential minerals and vitamins vital for good health and body function. Although it is high in cholesterol, unsaturated fat doesn't increase blood cholesterol levels and reduces the risk of heart disease. One large egg contains less than 1 g of carbs and creates the feeling of fullness for people on a keto diet.
Olives
Olives and olive oil have several beneficial compounds, but the most studied is Oleocanthal. Oleocanthal is known to have anti-inflammatory properties, which reduce pain and inflammation. If you don't like olives, then olive oil is a suitable alternative.
Meat, Poultry, and Seafood in Keto
Meat, poultry, and seafood are good sources of protein, iron, and other minerals that cannot be obtained from plant foods. A diet loaded with fatty meat and poultry leads to good bone strength and function.
It also improves and maintains muscle and other health benefits to the heart and overall health. Seafood such as Salmon, sardines, and other fatty fish offer high omega 3, which is crucial for mental health and decreases disease risk.
High Fat Diet (Butter, Cheese, And Cream)
Cheese is a good source of calcium, protein, and good fats. Studies suggest that consuming moderate amounts of a high-fat dairy diet rich in butter, cheese, and cream may reduce the chances of heart attack or stroke.
Can I eat berry on keto?
Berries have high nutritional value, which makes them best suited for a ketogenic diet. They have antioxidants that are credited with reducing inflation and preventing diseases.
Due to their relatively higher carb content, you can consume a moderate amount of blackberries, strawberries, blueberries, and raspberries on a keto diet.
Also Read: Vitamin C Fruits and Vegetables
Keto-Friendly Vegetables
Eating vegetables is an integral part of a keto diet and a means for half of your daily net carb intake (20 g to 50 g). Vegetables provide the most antioxidant protection and other essential nutrients in a few grams of carbs. Try to eat leafy green vegetables and non-starchy vegetables to promote weight loss.
If you are wondering what vegetables are keto-friendly, remember the rule that the vegetables that grow above the ground are best to be consumed on keto.
Root veggies that grow underground are high in starch and may disrupt your goal for a low-carb diet. Here are some of our favorite vegetables that pair well with proteins.
| Vegetables | Serving size | Carb content |
| --- | --- | --- |
| Spinach | 100 g | 2 g |
| Cucumber | 100 g | 3 g |
| Tomato | 100 g | 3 g |
| Cauliflower | 100 g | 3 g |
| Green pepper | 100 g | 3 g |
Keto Friendly Fruits
On a keto diet, the carb's intake is restricted to 20g to 50g per day, which means starchy vegetables, legumes, and certain fruits are definitely off the meal plan. However, some fruits are perfect for a keto diet because they have fewer carbs.
Most fruits are filling, nutritious, and tasty, so you can eat them without feeling guilty for ruining your diet plan. Check out the keto chart below for our top fruit picks.
| Fruits | Serving size | Carb content |
| --- | --- | --- |
| Watermelon | 152 gm | 11 gm |
| peaches | 154 gm | 12.2 gm |
| Avocado | 100 gm | 1.5 gm |
| Cantaloupe | 156 gm | 12.7 gm |
| Starfruit | 108 gm | 7.3 gm |
Keto Grocery List
If you are a keto diet beginner, the keto food list may overwhelm you. We have designed an essential printable keto food list with keto-approved food groups.
You can stick this printable chart on your fridge or take it with you on grocery shopping to help you plan your meals. We have also included nuts and other essential foods that don't cost a fortune and are best to fulfill keto cravings.
| Veggies | Nuts & Seeds | Fruits |
| --- | --- | --- |
| Bacon | Pecans Almonds | Avocados |
| Artichokes | Walnuts | Berry |
| Ground Beef | Macadamias | Lemon |
| Asparagus Broccoli | Chia Seeds | Lime |
| Cucumber | Flaxseeds | Coconut untweeted |
| Meet | Fats |
| --- | --- |
| Beef | Cottage Cheese |
| Duck meat | Coconut oil |
| Fish & Sea foods | Olive oil |
| Chicken | Ghee |
| Beef Jerky | Greek Yogurt (low carb] |
Keto Food List For Beginners
Being on a keto diet doesn't mean you have to compromise on taste. You can make delicious, easy-to-make recipes without ruining your grocery budget.
Our meal ideas are designed keeping in mind to provide low-carb, but various other essential nutrients needed by the body.
Our keto meal ideas are perfect for a lazy day and require minimum ingredients. Check out these delicious meal ideas that will be loved by even those, not on a keto diet.
High Fat Foods List For Keto
A keto diet is about consuming fats and skipping carbs, meaning that 80% of the daily calorie requirement will come from fats. Hence, focusing on fats while following a keto diet is crucial.
But not all fat sources are good for your health, and their use should be restricted. Unsaturated fat sources include flax seeds, chia seeds, avocados, nuts, Greek yogurt, butter, and cheese.
These unsaturated fats can be consumed without guilt and offer many benefits to your health.
Saturated fats are also keto friendly but have high health risks associated with them, so their use should be restricted. Saturated fats such as fried foods, processed meat, and trans fats should be avoided on a healthy keto diet.
Flax seeds
Chia seeds
Avocados
Nuts
Greek Yogurt
Butter
Cheese
FAQs
What foods are 100% keto?
Foods with fewer carbs can be considered 100% keto foods. Fish, meat, cheese, eggs, nuts, seeds, high-fat fruits, and non-starchy vegetables have low net carbs, making them ideal for the keto diet.
How many carbs can I eat and stay in ketosis?
A ketogenic diet typically requires reducing the total carb intake to 20 to 50g daily. Generally, keto meals are planned to have a higher unsaturated fat content to cover up the body's daily calorie requirement.
Are potatoes keto-friendly?
Potatoes are not keto friendly. A medium baked or raw potato can have 35g of calories, which is higher than the keto-recommended daily carb's intake of 20-30g. Even though they contain no gluten, a higher level of carbs can disrupt your diet plan on a keto diet.
Is peanut butter keto?
Peanut butter can be included in your keto diet, but it's best to consume products free from extra flavoring and sweeteners. Almond butter or regular butter is an excellent alternative to peanut butter as it has lower carb content.
Conclusion
Following a keto diet may be challenging, as you must let go of some of your guilty pleasures. However, you can take help from our keto food charts above to add a bit of variety, taste, and color to your diet.
Theodore Roosevelt says that you believe you can and are halfway there, so stay focused on your diet and trust yourself to achieve your goal.