Is the birthday of your little one near? Do you want to surprise them with a bike and worry about choosing the right size? If so, you've landed on the right page.
In the old days, the standard method of measuring the kid's bike size was based on the wheel size, but now it makes no sense. Why so? It's because different brands have different-sized bikes with a variety of wheels. 
For example, if your kid's size fits on a bike with 16″ wheels, he may fit on a bike of 20″ wheels from another brand. Calculating the bike's size according to the wheel, age and height don't matter. Then what should be taken into consideration? Well, there are a lot of other factors that go into calculating the bike size for kids. 
In addition, you'll also find some fantastic charts below, which will guide you on how to pick the right size bike. Let's dig into the details below.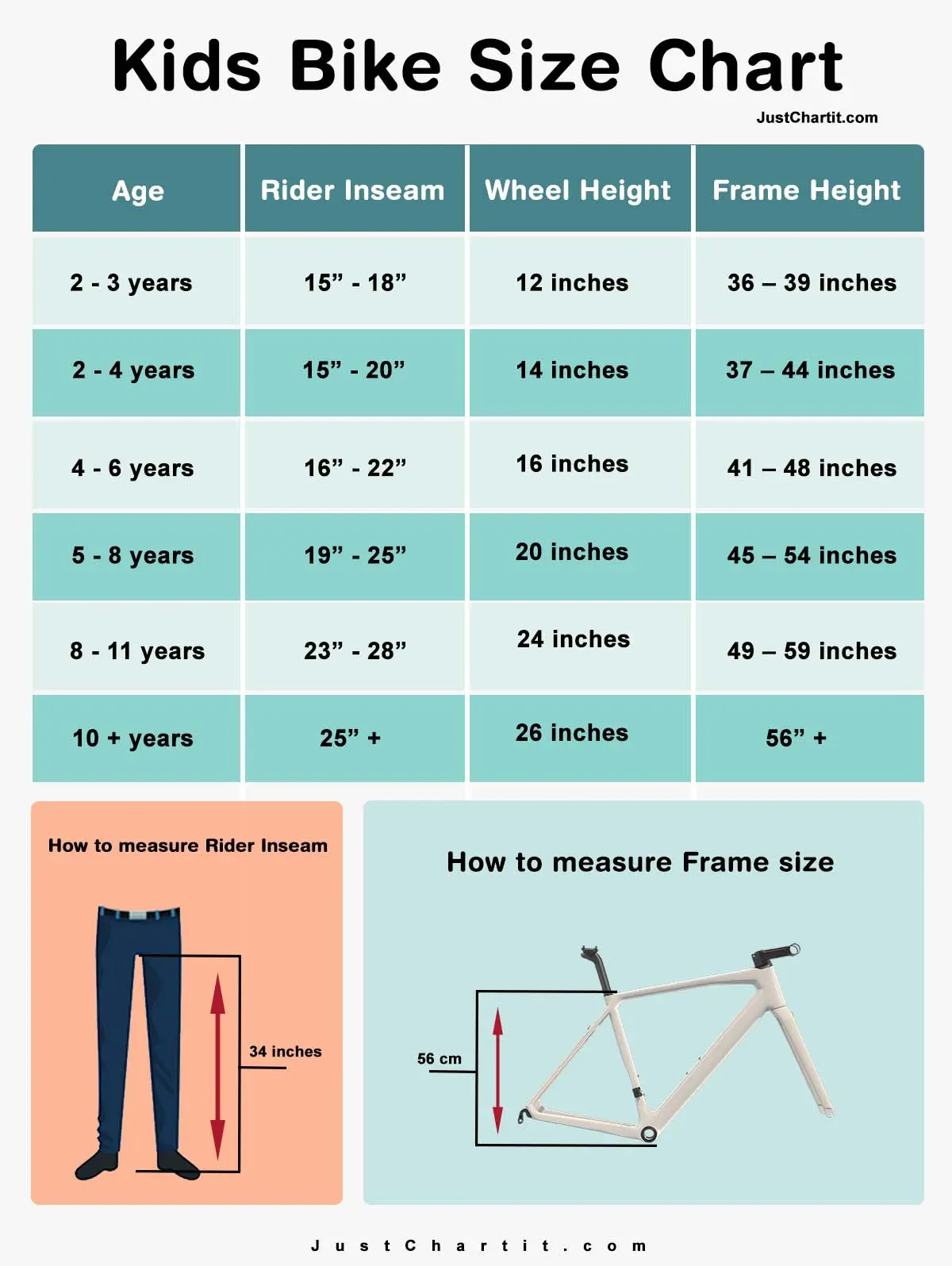 | Wheel Height | Age | Inseam | Frame Height |
| --- | --- | --- | --- |
| 12 inches | 2 – 3 years | 15" – 18" | 36 – 39 inches |
| 14 inches | 2 – 4 years | 15" – 20" | 37 – 44 inches |
| 16 inches | 4 – 6 years | 16" – 22" | 41 – 48 inches |
| 20 inches | 5 – 8 years | 19" – 25" | 45 – 54 inches |
| 24 inches | 8 – 11 years | 23" – 28" | 49 – 59 inches |
| 26 inches | 10 + years | 25" + | 56" + |
Steps to Finding Out The Right Size
The following steps go into evaluating the children's bike size.
Calculate the Inseam
Know the Wheel Size
Narrow Down the Seat Size
Buy For the Right Fit & Growth
Calculate the Inseam
Most people depend on age and height to evaluate the bike size, but they must do it correctly. The correct way is to begin by calculating the inseam. Now, what is an inseam, and how is it checked? The inseam is the length measured from your crotch to the feet. Here's how you can check the inseam.
Ask your kid to stand against the wall with both feet apart and with sandals on.
Then place a book between their legs. Please make sure the book's spine touches its crotch.
Then align the book with the floor.
Now, you are ready to take the measurement.
Take a measuring tape, and place it from the ground up to the book's spine. There you have it – the inseam.
Know the Wheel Size
Now we'll be proceeding towards knowing the wheel size. With the help of an inseam, you can determine the wheel size for your kid's bike that falls into one or two categories. In addition, buying a bike with larger wheels tends to be more stable and offers room for growth compared to smaller wheels. So, why not go for the large ones?
On the other hand, you can take help from the table below. If you have a five year old kid, they can have a bike with 16″ and 20″ wheels. Therefore, the large wheels of 16 and 20″ will be much for them and make their bike riding smoother and more accessible. There you have the wheel size.
Narrow Down the Seat Size
Now that you know what size bike is right for your kid, you need to know the seat's height. It's essential, and you should pick the bike according to the kid's experience in riding a bicycle. They can be;
Beginner riders
Experienced riders
Balanced bike riders
Moreover, you must be wondering how to determine seat height and size. Well, seat height is the distance from the ground to the seat and will help you pick the right option.
Beginner's Bike
For those who don't know how to ride a bike, you need to get them a bike on which their feet can touch the ground. The feet touching the ground is necessary so the kid can stop the cycle when needed. So, in this case, the child's seat height should equal their inseam.
Experienced Rider's Bike
Those who know how to ride a bike or use pedals and foot brakes should have a bike with a seat raised 2 to 4 inches above their inseam. Also, make sure their tip-toe touches the ground. Raising the seat level maximizes the leg extension while pedaling increases the efficiency of each pedal stroke.
Training Wheels Bike
These bikes are known as four-wheelers and are for timid children. In this case, it's up to your children's confidence which bike will suit them.
You can get them a bike with less or an increased seat height if you want. If they are afraid of falling from the bike, you should get them the one on which sitting makes their feet touch the ground. If your kid is crazy about riding a bike, go for the one having a seat up to 3 inches above their inseam.
Buy For the Right Fit & Growth
Now that you know how to select the correct size bike for your kid, it's time to begin shopping. The chart given above will help you throughout the shopping.
If you need to know where to buy a bike, worry not. Many local shops and online stores are available to help you solve your query. Furthermore, if you need to learn how to select a bike with no chart, you don't need to fear it. The chart in our blog will be helpful for you.
Conclusion
Kids love to order bikes, and their dream is to roam outside on the bike like a boss and flex their new vehicle to their neighbors and friends. Therefore, you need to pick a bike which fits your size, is compatible, durable and offers comfort.
This way, your little ones will have fun while riding, and there will be lesser chances of them falling off the bike. However, we wouldn't want your little ones to have a tough time while driving on the bike. You wouldn't want it to, right? Until then, happy reading!