Thai food is one of the most intriguing foods. Thai cuisine will be the best choice if you are looking for a blend of herbs and spices with the right amount of flavors like sweet, salty, spice, and sour.
You can't resist the aroma and its colorful presentation. It's Prepared with fresh ingredients, light and healthy on the stomach. Thai food falls into four diverse categories: tom(boiled dishes), yam(spicy salads), tam(pounded foods), and Kaeng (curries).
Deep-frying, stir-frying, and steaming are not solely from Thai cuisine; they are adopted from Chinese cuisine.
Well, if we talk about Thai food's nutrition, then it's usually quite healthy because it contains vegetables, lean protein, fresh herbs, and spices.
Thai food adds flavor without adding additional calories; you just need to follow the right strategy to make it.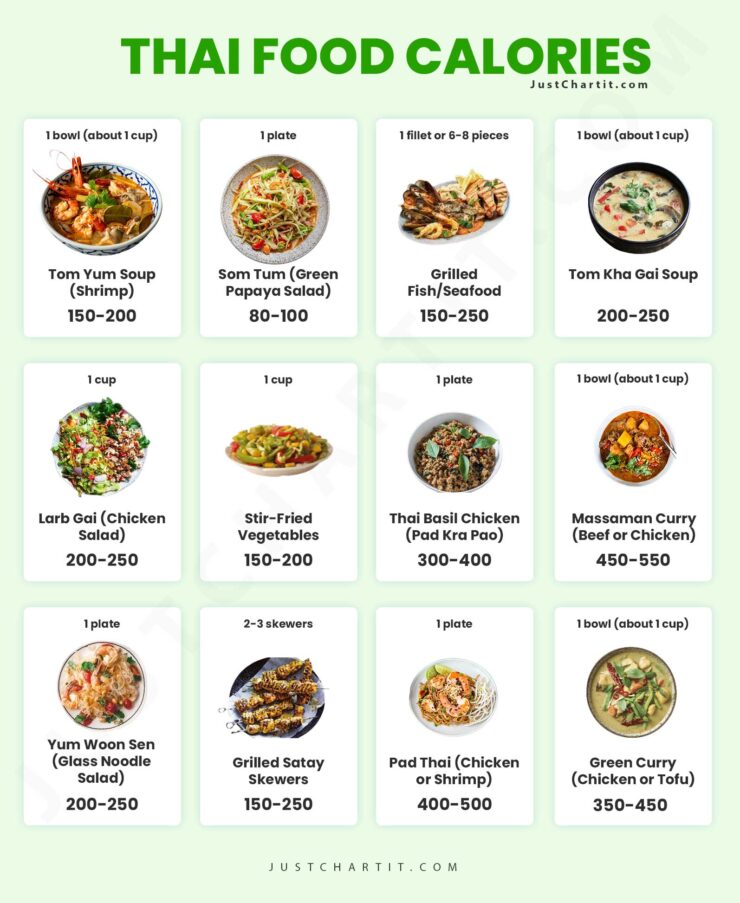 Some Thai Foods With Low Calories
Thai food is a relatively low-calorie meal and is very healthy. Because it is usually packed with lean protein, plenty of veggies, and just the right amount of seasonings, the preparation method and portion sizes can also impact the amount of calories in Thai food.
Here are some best low-calorie Thai foods. Summer rolls, papaya salad, Tom Yum Goong, Lab Gai, Chicken satay, Pad thai, and dishes like these are packed with fewer calories.
Some Thai foods with low calories are listed below:
| Food Name | Calories (per serving) | Serving Size |
| --- | --- | --- |
| Tom Yum Soup (Shrimp) | 150 – 200 | 1 bowl (about 1 cup) |
| Som Tum (Green Papaya Salad) | 80 – 100 | 1 plate |
| Grilled Fish/Seafood | 150 – 250 | 1 fillet or 6-8 pieces |
| Larb Gai (Chicken Salad) | 200 – 250 | 1 cup |
| Stir-Fried Vegetables | 150 – 200 | 1 cup |
| Tom Kha Gai Soup | 200 – 250 | 1 bowl (about 1 cup) |
| Yum Woon Sen (Glass Noodle Salad) | 200 – 250 | 1 plate |
| Grilled Satay Skewers | 150 – 250 | 2-3 skewers |
| Pad Thai (Chicken or Shrimp) | 400 – 500 | 1 plate |
| Green Curry (Chicken or Tofu) | 350 – 450 | 1 bowl (about 1 cup) |
| Massaman Curry (Beef or Chicken) | 450 – 550 | 1 bowl (about 1 cup) |
| Thai Basil Chicken (Pad Kra Pao) | 300 – 400 | 1 plate |
| Pineapple Fried Rice (with Chicken) | 400 – 500 | 1 plate |
| Pad See Ew (with Beef or Tofu) | 400 – 500 | 1 plate |
| Tom Kha Tofu Soup | 200 – 250 | 1 bowl (about 1 cup) |
| Mango Sticky Rice | 300 – 400 | 1 serving |
Which Thai salads are light and flavorful for a low-calorie option?
The Green Papaya salad( Some Tom) is low in calories and it also tastes good. It is made from unripe papaya, green beans, peanuts, tomatoes, lime juice, chili peppers, and fish sauce. This salad is lightweight and refreshing. It is known for its diverse presentation.
Are there any Thai noodle dishes that are low in calories?
Kway Teow Nam is a clear noodle soup with minced seafood or pork and veggies. It is a healthy pick as compared to other Thai noodles. And we can further reduce the calories by choosing lean protein and extra veggies with smaller portions of noodles.
Can you enjoy Thai fried rice in a low-calorie version?
We can surely enjoy fried rice in a low-calorie version by making healthy changes. First, we can substitute white rice with cauliflower rice or brown rice. We can control our oil usage. We can choose lean protein sources like chicken, egg whites, shrimp, and tofu.
Add more vegetables as they add nutrition without adding many calories. And most importantly control your portion. So by making these small adjustments, we can still enjoy flavorful but with fewer calories of Thai fried rice.
Which Thai desserts are relatively low in calories?
There are some Thai desserts that are relatively low in calories compared to other Thai desserts.
Thai coconut cup dessert.
kanom sai sai.
fresh fruit with chilled sugar dip.
Tao suan (Mung Bean Soup).
Tub Tim Krob.
Healthy Thai food choices for weight watchers
For Weight Watchers, there is some healthy Thai Food, like foods that are rich in nutrients and flavor with lean protein and veggies.
Following are some Thai foods with relatively low-calorie index:
Green Papaya Salad.
Thai spring rolls.
Tom Yum Goong.
Satay Skewer.
Pad Thai.
Larb Gai
Stir-fried vegetables with Lean Protein.
Clear Noodle Soups
Steamed Fish with Lime sauce.
FAQS
Can you enjoy creamy Thai soups without compromising on calories?
Yes, you can enjoy the creamy Thai Soups without compromising on calories by making some healthy changes to the original recipes.
By making the following changes you are good to go with your creamy Thai soup:
Thai soups use coconut milk for their creamy texture. You can avoid that by using light coconut milk or by diluting the regular coconut milk.
Add vegetables to increase the volume and nutrition of soup without compromising the calories.
Choose lean protein.
Avoid using excessive amounts of fat or oil to keep the calorie count lower.
For a creamy texture, you can use Greek yogurt instead of using heavy cream.
Last but not least, control your portion size.
Which Thai food has the least calories?
Thai foods which contain the least calories are listed below:
Som Tum (Green Papaya Salad), having 80-100
Tom Yum Soup (Shrimp), has 150-200 calories
Grilled Fish/Seafood, having 150-250 calories.
What is the best Thai food to lose weight?
As most traditional Thai foods do not use dairy products they are fairly healthy and good for weight loss. Thai foods mainly contain herbs, fresh vegetables, lean protein, and herbs.
According to a study, many Westerners tend to lose 3% and 5% of their body weight in 1-2 months if they switch from Western foods to Thai foods. Green papaya Salad is the right pick if you are looking for food that'll help you lose weight.
It is rich in green ingredients, with the right amount of lean protein. but you must be careful about the sugar added to it or you can just avoid its use.
What are the healthiest Thai dishes?
Some healthiest Thai dishes are listed below:
Som Tum(Green Papaya Salad)
Tom Yum Soup
Yum Woon Sen( Glass Noodles Salad)