You might be wondering "How can a low-carb vegetable diet" help you achieve your health goals just like other numerous options available online, this trick of incorporating low-carb veggies and low carbs fruits in your diet might benefit you in the long term!
What if I tell you that many vegetables are low in carbs but rich in fiber, vitamins, minerals, and other essential nutrients, making them beneficial for a variety of reasons? whether you're on a low-carb diet or not, the intake of vegetables in your diet is always a great idea.
Commonly used vegetables such as potatoes, corn, peas, and others that are high in carbs may add to obesity and other health issues. Therefore, it's advised to intake low-carb vegetables to prevent these problems.
Regular intake of low-carb vegetables may help you overcome health issues such as obesity, high cholesterol levels, etc. As these veggies are low in carbs, they make you feel full longer than usual without consuming some extra calories. Plus they're an excellent source of weight management.
Moreover, these low-carb veggies serve best for diabetic patients and people suffering from metabolic syndrome.
We've designed a Low carb vegetable chart for you to include the best possible options available in your daily diet.
Have a look at this chart and plan your meals accordingly.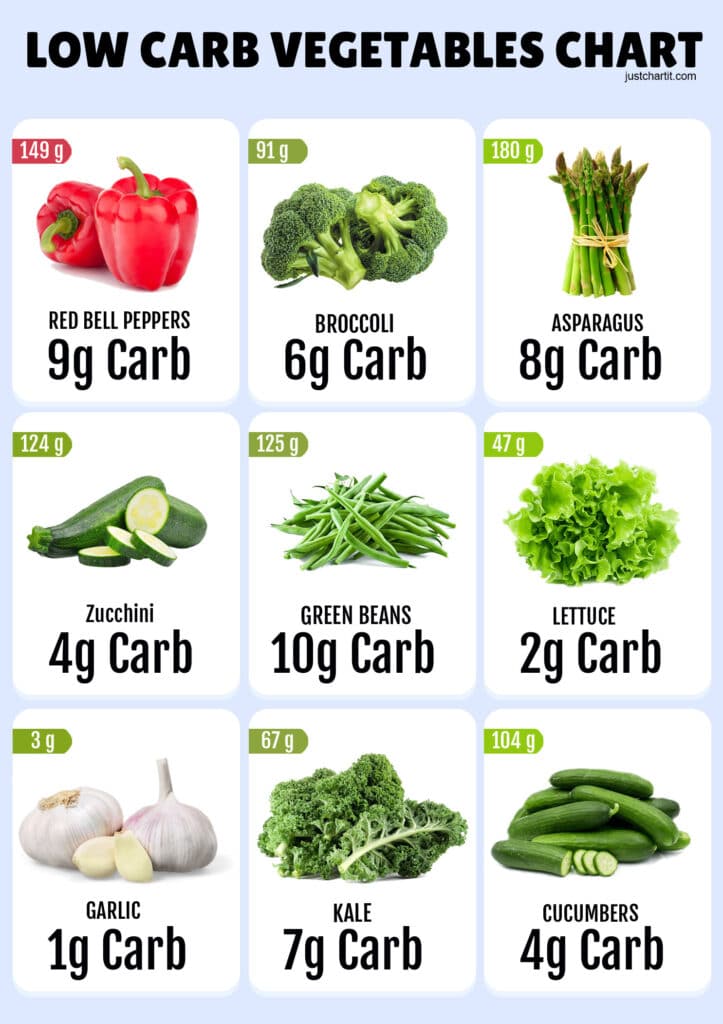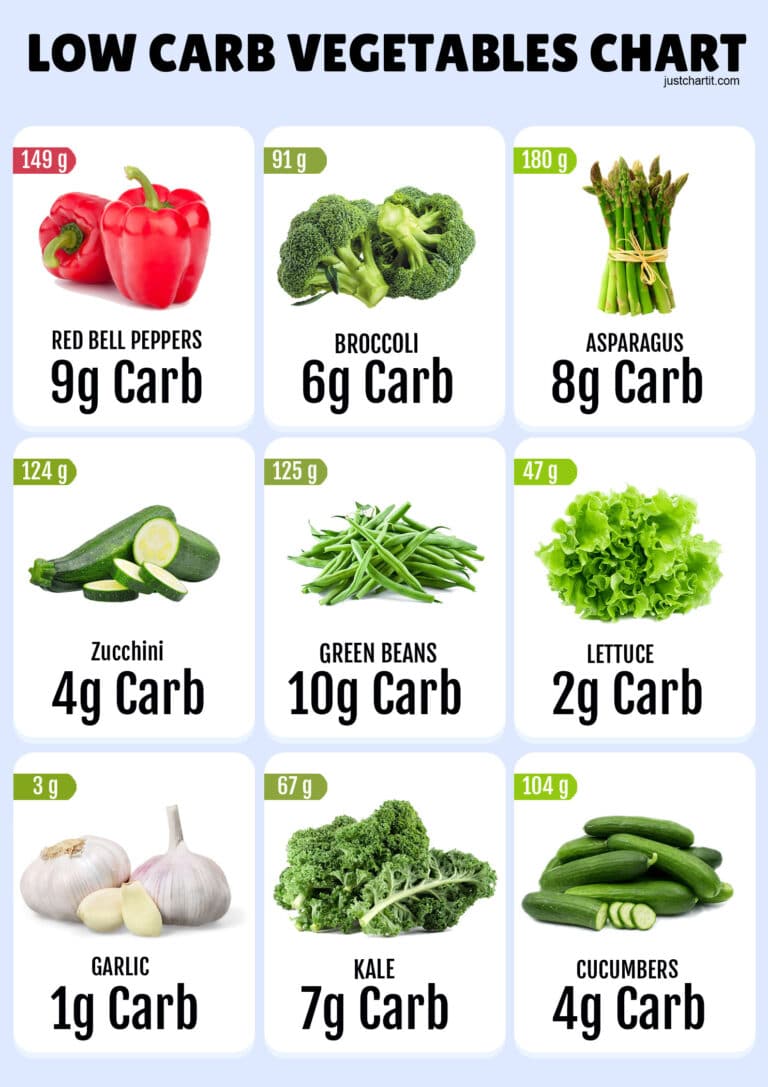 Low Carb Vegetables Chart
Keeping in mind the importance of low-carb food, we would now like to shed light on various vegetables containing low carbohydrates and high amounts of other essential nutrients such as fiber, vitamins, proteins, iron, and minerals.
The carb contents of vegetables may vary, therefore it's always a pleasant idea to check out the nutritional chart to seek an idea of how many carbs are present in that particular vegetable.
Additionally, certain starchy vegetables are high in carbs, hence, you must be well aware of their nutritional content if you're following a keto diet or looking for healthy options to keep your metabolism game strong.
To make you aware of the low carbs vegetables and their nutritional value, we've designed a table containing all the information that you need to know beforehand. Stay with us as we'll be presenting you the vegetable carb chart printable right after the nutritional table.
A handful amount of info related to low-carb vegetables has been shared above which would help you include these vegetables in your daily diet as per required by the body to keep you healthy and active throughout the day.
For a more clear insight on low-carb vegetables Grab your printable Low Carb vegetable Chart pdf now!
Zero Carb Vegetables
Did you know that zero carb vegetables have less than 1 gm of carb per serving which makes them the ideal food for low carb diets? Including these zero carb vegetables in your daily diet ensures that you're getting a wide range of important nutrients without consuming foods / vegetables that contain excess carbs.
Not only this, but zero carb vegetables are versatile, which means they can be eaten in thousands of ways! Which includes roasted or grilled, cooked or steamed, raw in salads, sautéed in stir fried. This pleasant fact not only provides you with the most needed nutrients but also makes your meal time fun and creative!
To make your fun times enjoyable, we've crafted a table containing various zero carb veggies plus their nutritional content. Have a look at the zero carb vegetables' Table and prepare delicious meals that would leave your taste buds in awe.
| Vegetables | Carbs | Serving Size |
| --- | --- | --- |
| Arugula | 0.4 g | 10 g |
| Bok choy | 1.5 g | 70 g |
| Lettuce | 1 g | 40 g |
| Spinach | 1.1 g | 30 g |
| Carrot | 0.7 g | 7 g |
| Bell pepper | 0.7 g | 12 g |
| Cucumber | 0.85 g | 50 g |
Low Carb Vegetables For Keto
For Ketosis, or the ones who're strictly following keto diet, it's essential to keep in mind that keto is a restrictive diet and you need to keep a strict eye on the intake of vegetables that are relatively low in carbs and high in fiber.
That means you've to limit certain fruits and vegetables and avoid some high carb vegetables and grains completely.
For a complete insight on numerous low carb vegetables for keto, we've compiled a vast table displaying the amount of carb each veggie contains.
Scroll down to get your hands on Table.2 of Low Carb Vegetables Chart, to guide you in this journey of ketosis and maintain a healthy weight.
| Vegetables | Carbs | Serving Size |
| --- | --- | --- |
| Avocado | 3 g | one, medium sized |
| Brussel sprouts | 1.7 g | one sprout |
| Garlic | 0.9 g | one clove |
| White mushroom | 3.3 g | 100 gm |
| Okra, cooked | 3.2 g | 100 gm |
| Bitter gourd, cooked | 3.7 g | 100 gm |
| Swiss chard, cooked | 1.8 g | 100 gm |
Also read: Protein in Vegetables
Wellness Expert for You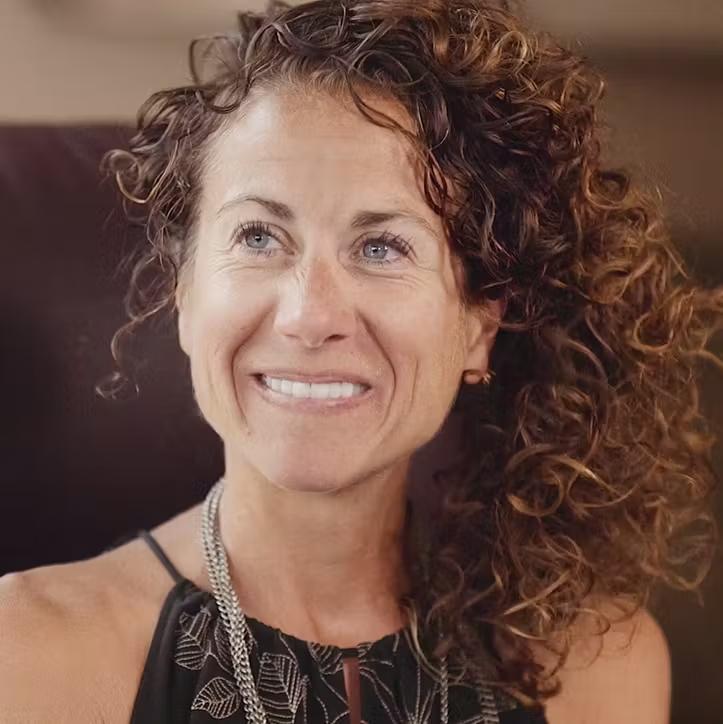 She is a well-known nutritionist & author who has written several books on the ketogenic diet including, "The 30-Day Ketogenic Cleanse" and others.
Maria also runs a website, where she offers coaching services, meal plans and recipes. She has also designed some online courses such as "The Keto Cleanse" and "Keto Adapted" to help you learn more about successful implementation of keto diet in your life
Healthy eating doesn't have to be complicated. Stick to whole, unprocessed foods, and avoid anything that comes in a package.

Maria Emmerich
Final Words
With all that information covered in the article " Low Carb Vegetables Chart", we've made things easier by including all the facts and figures and complete insight on a variety of low carb veggies will help you walk comfortably through the journey of life.
Although, Low carb vegetables play a vital role in weight management, we can't deny the importance of high carb vegetables. A balanced intake of both will benefit you in the long term if eaten in adequate amounts.
High carb vegetables chart is a comprehensive guide, we've brought for you to seek a better idea of these vegetables and include them in your diet as per needed.
With that signing off till the next time and hope you have a healthy and smart life waits ahead of you.