Ideally used vegetables like potatoes, corn and peas possess high-carb content that increases the risks of obesity and cardiovascular diseases.
To prevent this all, it's advisable to use low-carb vegetables in your daily routine. Low carb vegetable chart helps you to pick your favorite low-carb veggie.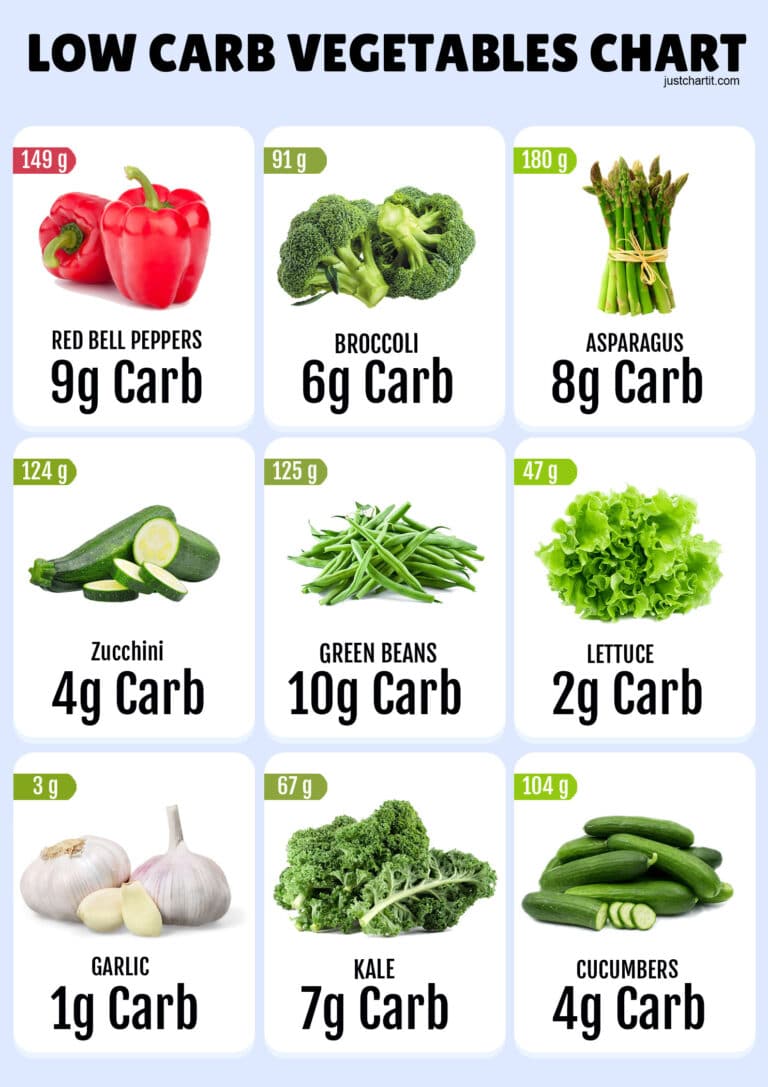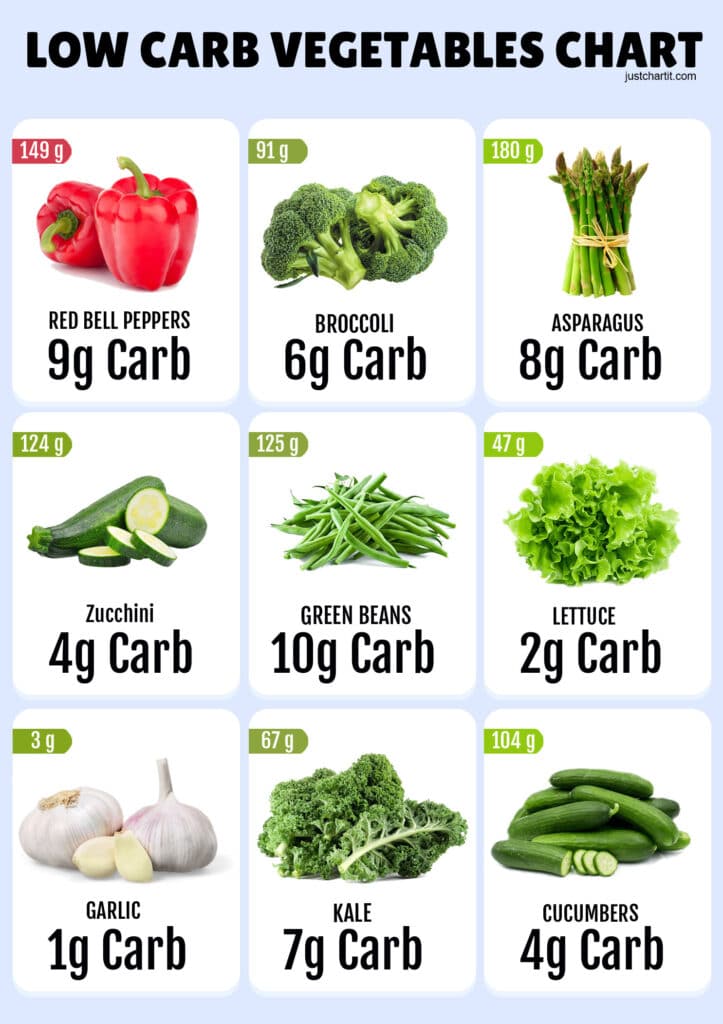 Why Low Carb Vegetables?
Low-carb vegetables are rich in proteins, fats, vitamins, fibers, and minerals with a low percentage of carbohydrates.
Because of this nutritional content, low-carb vegetables help you in improving your body's cholesterol levels, blood pressure, and blood sugar levels.
In addition, low carb vegetables help you in:
Lowering body weight.
Reducing appetite.
Minimizing triglyceride levels.
Improving bad LDL cholesterol levels.
Reversing metabolic syndrome to normal.
Decreasing insulin levels.
Lowering your body's fatty content.
Now, let's get through those miraculous low-carb veggies that do wonders! Here's the chart for low-carb vegetables!
This low-carb vegetable chart will help you know the carb weightage in the low-carb vegetables.
| Vegetables | Carb | Serving size |
| --- | --- | --- |
| Red bell pepper | 9 grams | 149 grams |
| Broccoli | 6 g | 91 grams |
| Asparagus | 8 g | 180 grams |
| Zucchini | 4 g | 124 grams |
| Green Beans | 10 g | 125 grams |
| Lettuce | 2 g | 47 grams |
| Garlic | 1 g | 3 grams |
| Kale | 7g | 67 grams |
| Cucumber | 4 g | 104 grams |
Now, let's explore the top 3 low-carb vegetables in detail!
Red Bell Pepper
Red bell peppers were used in Traditional Chinese Medicine for treating ailments like poor blood circulation, loss of appetite, indigestion, and digestive issues- all because of their nutritional composition!
This incredibly nutritious red bell pepper is rich in carotenoids (antioxidants) that helps in:
Decreasing cancer risks
Reducing inflammation
Protecting fats, cholesterol and oxidative damage
Improving cardiovascular health
Promoting bone health
Improving eyesight
Nutritional Profile
If offers:
93% Reference Daily Intake (RDI) for vitamin A.
317% RDI for vitamin C.
39g calories, 0.5g fat, 6mg sodium, 9g carbohydrate, 3.1g fiber, 6.3g sugar, and 1.5 g proteins.
"One cup-149 gram of chopped, raw, red bell pepper contains 6g digestible carb and 3g fiber = total of 9 grams of carbs (net) per serving."
Fun Fact: Red, yellow, green, and orange bell peppers have similar nutritional content, but antioxidant levels may vary. In actual bell peppers are fruits, not vegetables because they bloom from flowering plants.
Broccoli
The superfood broccoli is a member of the cruciferous vegetable family that includes radish, cabbage, and kale, and Brussels sprouts.
Studies have revealed some mind-blowing benefits of broccoli. They are:
It helps decrease the risk of type 2 diabetes by decreasing insulin resistance.
It protects your body against various types of cancers preferably prostate cancer.
Improves digestion.
Lower cholesterol levels.
Detoxifies the body.
Maximize mineral and vitamin intake.
Prevents allergic reactions.
Boosts immune system.
Eliminates inflammation.
Improves vision.
Protects skin.
Prevents birth defects.
Nutritional Profile
Broccoli is known as the "Crown of Jewel Nutrition" because of its rich vitamin and mineral content. It offers:
100% RDI for vitamin C.
10% + RDI for vitamin K.
Rich source of dietary fiber, vitamin B1, magnesium, omega-3 fatty acids, protein, zinc, calcium, iron, niacin, selenium, manganese, phosphorus, and choline.
"One cup- 91 grams of a raw broccoli contains 4g of digestible carb and 2g fiber = total of 6 grams of carbs (net) per serving."
Fun Fact: The word "Broccoli" is of an Italian origin meaning "the flowering crest of a cabbage." It's been in the world for more than 2000 years.
Asparagus
If you're a health geek, asparagus is sure for you! Being rich in saponins (a phytonutrient), asparagus carries health benefits that are just amazing.
Check out the benefits this nutritionally well-balanced giant veggie offers:
It reduces cancer risks.
Helps in maintaining blood pressure.
Regulates blood sugar levels.
Controls the body's lipid levels.
Protects your liver from toxins.
Reduce anxiety.
Improves brain health.
Supports healthy pregnancy.
Helps in losing weight.
Nutritional Profile
Asparagus is known as "Vegetable of Kings" as it's a perfect food containing no fat and cholesterol, at all! This delicious spring vegetable features:
12% RDI for vitamin C.
18% RDI for vitamin A.
57% RDI for vitamin K.
7% RDI for Vitamin E.
34% RDI for Folate.
6% RDI for Potassium.
5% RDI for Phosphorus.
Calories 20g, protein 2.2 g, fats 0.2g, and fiber 1.8g.
"One cup- 180 grams of a cooked asparagus contains 4g of digestible carbs and 4g fiber = total of 8 grams of carbs (net) per serving."
Fun Fact: Asparagus is nearly 2,500 years old and was first grown in Greece. 
CORE-CRUX
Our article "low carb vegetable chart" "low carb Fruits chart" comes to an end. We hope you find it useful in managing your diet and food plans.
We've discussed the top three veggies on our chart, in detail, also with complete know-how to their nutritional profile.
With that said, do let us know in the comment section down below regarding your experience with low-carb & High Carb veggies and share your story of using them and their effects. We'd love to hear back from you guys!
Till then be safe and sound- Will see you next!
GO GREEN!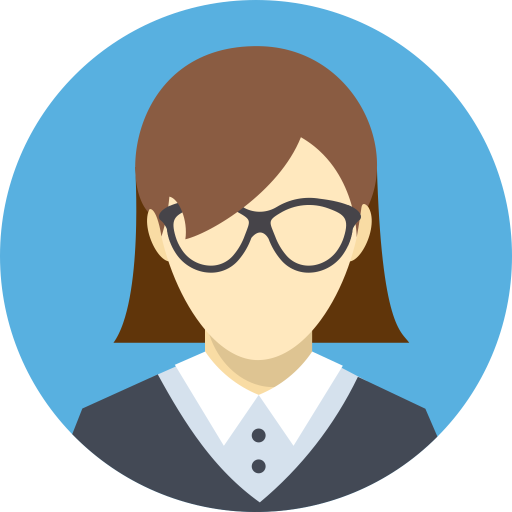 A nutritionist by profession and a writer by passion, always motivated to learn
and educate. With love for writing I ensure my content is informative and helps the reader to get on a healthy life track.