When it comes to buying a mountain bike, many questions arise in the mind of a buyer. What sort of bike should I buy? What should be its height and much more? These questions may sound funny, but they are not and must be tackled seriously.
A bike costs a thousand bucks or more than that, so you must ensure you're getting the correct frame size. If you do the research beforehand, you'll save money.
Furthermore, mountain bikes should be comfortable because you must ride them in the mountains. There, you will find bumpy terrains and horrible tracks to ride on.
Therefore, a sturdy bike with maximum comfort is a must. If you want a bike but need to know the correct frame size, look at the mountain bike frame size guide for men and women below.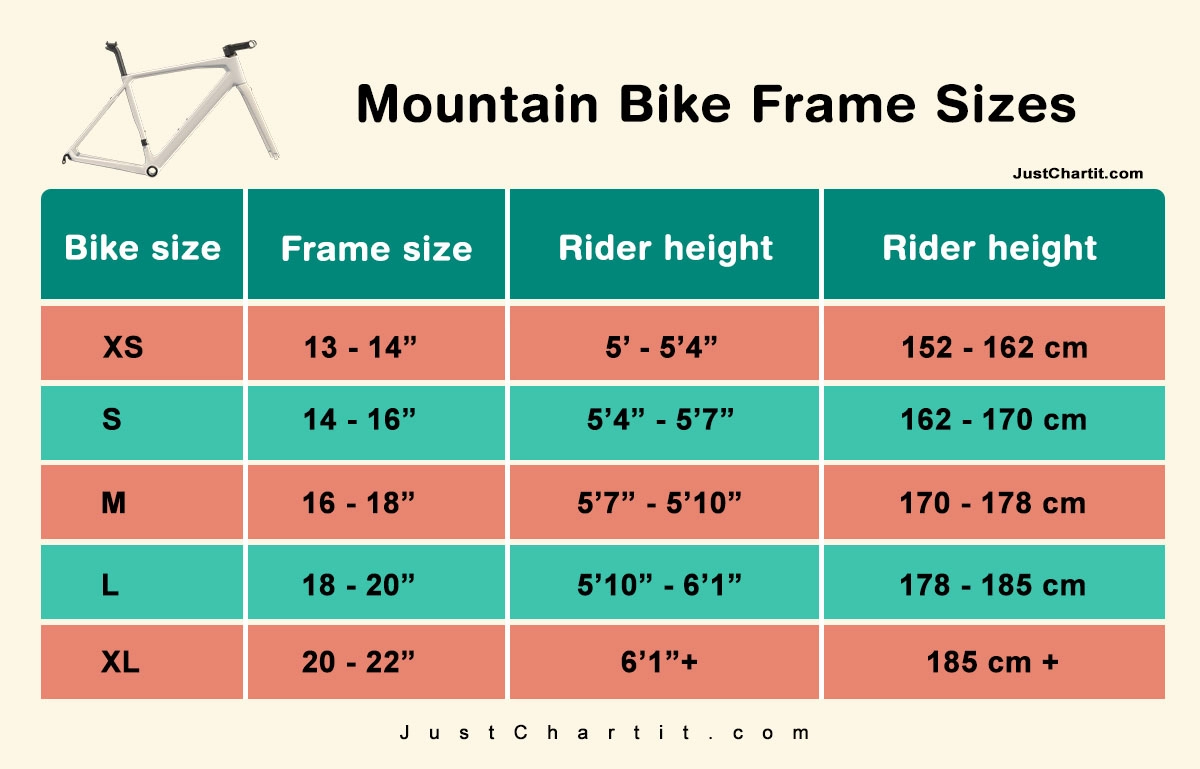 Mountain Bike Frame Size for Men
When buying a mountain bike for men, the most asked question is, what size bike should I go for? The answer to this question is to get the one according to your size and needs and measure the bike frame size.
Moreover, measuring a mountain bike frame size is not a hard nut to crack; it's easy. For further assistance, you can refer to the table below.
This mountain bike frame size chart contains the bike size, frame size, and how to select a bike according to the rider's height.
| Bike Size | Frame Size | Rider Height in Inches | Rider Height in cm |
| --- | --- | --- | --- |
| Extra small | 13 – 14" | 5' – 5'4" | 152 – 162 cm |
| Small | 14 – 16" | 5'4" – 5'7" | 162 – 170 cm |
| Medium | 16 – 18" | 5'7" – 5'10" | 170 – 178 cm |
| Large | 18 – 20" | 5'10" – 6'1" | 178 – 185 cm |
| Extra Large | 20 – 22" | 6'1"+ | 185 cm + |
Mountain Bike Frame Size for Women
Women's bodies and structures are different from men's. They are sensitive and delicate. Therefore, they should get a sturdy bike that offers maximum comfort while ascending and descending the mountain tracks and is handy to carry.
So, please read the table below and select the right bike according to your height, bike size, and frame size. We hope this mountain bike frame-size guide will turn out to be of great help to you.
| Bike Size | Rider Height | Frame Size in Inches | Frame Size in cm |
| --- | --- | --- | --- |
| Extra Small | 4'10" – 5'2" | 13 – 14" | 148 – 158 cm |
| Small | 5'2" – 5'6" | 15 – 16" | 158 – 168 cm |
| Medium | 5'6" – 5'10" | 17 – 18" | 167 – 178 cm |
| Large | 5'10" – 6'1" | 19 – 20" | 178 – 185 cm+ |
Also read: Giant Bike Size Chart
What Size Frame Do I Need for a Mountain Bike
Numerous manufacturers have different bike frame sizes. If you want to know the right size for your bike, you can ask a professional bike rider, who will tell you that every bike comes in a different size fit.
Moreover, the manufacturer's listed mountain bike frame size chart needs to be clarified. The conventional approach is to mention the length of the seat tube.
Even that varies because some are measured to the top of the seat tube, and some are measured to the middle, where the top tube joins the seat tube.
On the other hand, many brands or manufacturers list their bikes as extra small, small, medium, more significant, and extra large.
Additionally, manufacturers have begun mentioning bike frame sizes according to to reach figures rather than seat tube and top tube lengths.
To sum up, they have been able to grow the bike's reach figure, wheelbase, and maximum tube length, and at the same time, they kept the seat tube lengths and stack heights shorter and lower.
This means shorter persons can ride larger bikes because they can lower the seat height using shorter seat tube lengths, which allows them to fit on bikes with greater reach figures.
The seat and top tube size should still be considered when purchasing a bicycle. The entire tube length determines how stretched out a rider will feel, and the seat tube length will determine the lowest saddle height that can be set.
How do you determine what size frame you require? There is no perfect remedy for this or any other issue with a mountain bike because, within reasonable bounds, you can modify your saddle, stem, and handlebar to help make a slightly off fit seem comfortable.
Also read: Kids Bike Size Chart
How to Measure a Mountain Bike Frame
Traditionally, most bike sizes are measured according to the seat tube length, but it continues further. There's much more to finding a bike that fits you like a glove. A professional bike rider will consider many things while finding a bike that suits them. You may or may not need a professional bike, but here are some others.
Here's how to measure a mountain bike.
Seat-tube length: The distance between the top of the seat tube and the bottom of the crank (not including the seat post and saddle).
Wheel size: The wheel size (often 27.5″ or 29″, however, some vintage bikes have smaller 26″ wheels).
Effective top-tube length: The distance from the seat post's center to the top center of the head tube is known as the effective full tube length.
Reach The distance measured from the bottom bracket along a line drawn vertically to the head tube's center. As a reach indicator, it is more trustworthy than the effective top tube length.
Head angle: The angle between the head tube and the ground is known as the head angle. A bike with a shortened head angle is more responsive and agile on trails but can feel shaky while going uphill or at high speeds.
When choosing a frame size that fits, other factors like seat angle and chainstay length have less of an impact on how a bike feels and performs.
Conclusion
There you have it-the mountain bike frame size chart. It's a one-stop solution for those who want to buy a mountain bike and intend to spend their money wisely.
If you're among those and worried about getting the right bike size, you can refer to the mountain bike frame size guide given in the article. Following it will provide accurate measurements, and your money will be well-spent.