Bicycles play a vital role in a person's life. During childhood, it fulfills the role of being a source of entertainment. Adults use it as a source of transport, use it for fitness purposes and many others.
As you know, bikes are of different types and to get yourself one can be a headache. However, one should keep several factors in mind while getting a bike.
The cycle's size
The kind of bike you want to buy, and some others.
You can see the size in bike size Guide, but the thing that might irritate you is the kind of bike you want to buy.
The one kind you will learn about is the mountain bike, its features, and its sizes which one can see in the mountain bike size chart. A brief word about the mountain bike is that it is a strong bike most used in mountainous regions.
Some use it to climb mountains for fun, like sports, and some use it as a source of transport, like village people, as the roads and transportation paths are underdeveloped.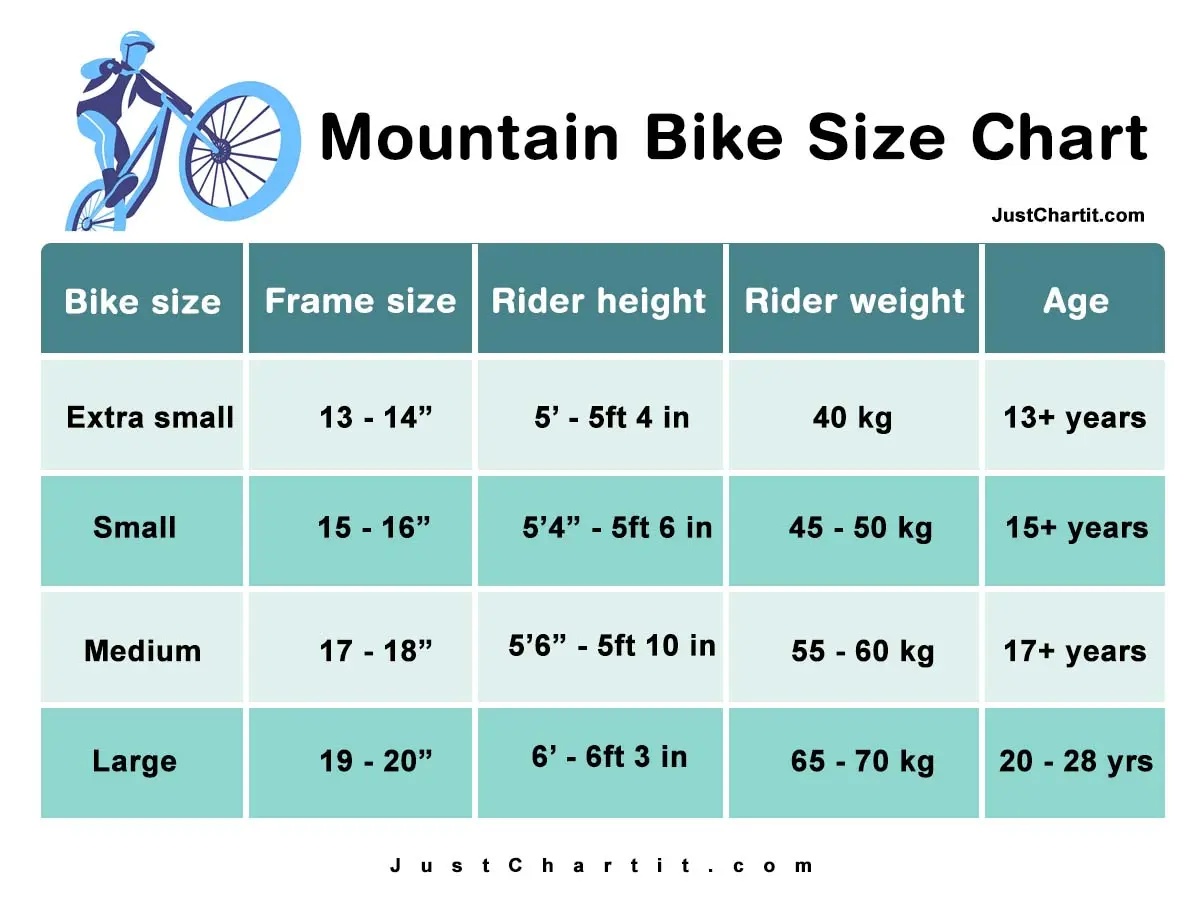 | Mountain bike size | Frame size | Rider height | Rider weight | Rider age |
| --- | --- | --- | --- | --- |
| Extra small | 13 – 14" | 5' – 5ft 4 inches | 40 kg | 13+ yrs |
| Small | 15 – 16" | 5'4" – 5ft 6 inches | 45 – 50 kg | 15+ yrs |
| Medium | 17 – 18" | 5'6" – 5ft 10 inches | 55 – 60 kg | 17+ yrs |
| Large | 19 – 20" | 6' – 6ft 3 inches | 65 – 70 kg | 20 – 28 yrs |
Mountain Bike Size Guide
Apart from what the name suggests, these bikes have far more capability than coming in handy in mountainous regions. These bikes are similar to other bikes, But the difference is the functioning of the bikes and the design.
Their design is mainly for off-road cycling. These bikes also differ from others. They have some extra strategic features that ensure good durability and performance in rough terrain. Their physical appearance is involved.
Light frame
Full suspension
Large knobby tires
Durable wheels
Powerful brakes
And lower gear ratios for climbing steep paths.
The bike has a design so that rather than only climbing mountains, they also come in handy for off-road obstacles like bumps, potholes, large rocks, and many obstacles.
These bikes are supposed to be fast and responsive due to their extra strategic features. Similar to all other kinds, they also come in different sizes.
To better understand the bike sizing scenarios according to your height, you can use the mountain bike size guide or the mountain bike size chart.
Features of A Mountain Bike
As discussed earlier, mountain bikes have extra features compared to other bikes, giving them an edge over others. The features discussed above are a short explanation, and now you will learn about them in detail.
Suspension
In the olden days, there was no suspension on bikes. It was later introduced in the early nineties, making cycling more manageable and comfortable. The suspension forks achieve a break in the cycle, which works through shock absorbers in the bicycle's front and rear wheels.
The purpose of adding this feature to the bike is to ensure a smooth ride. If the cycle moves up, down, or past obstacles, the ride will be smooth if the suspension is good.
Brakes
Brakes are an essential feature of any vehicle, not only bikes. However, as the discussion is regarding cycles, their brakes vary on the type of bike and its functionality.
As a mountain bike has to deal with obstacles, and the ride will be bumpy, the brakes of a mountain bike are powerful. Disc brakes are used in these bikes because they provide higher power than rim brakes. These brakes have a central location in the tire, which keeps them dryer and cleaner.
Wheels
If you compare a mountain bike with a regular one, the most common and visible difference would be the tires because mountain bikes have wide tires, around 29″, whereas the regular ones have slightly thinner tires.
These wide tires are highly durable and have excellent resistance against obstacles. The mountain bike tire design allows a higher suspension and great brake control, a basic need for such bikes.
Gears
Another characteristic of this bike is its gears, which you might only find in mountain bikes and not other ones. They are kept simple due to the high efficiency of the process.
It has two gears .
Low gear: Low gear is easier when climbing or cycling at your slowest speed since it offers the least pedal resistance.
High gear: This is the rugged gear used when riding at the fastest speeds. You shift to your higher gears when speeding on a downhill section.
Advantages And Disadvantages of A Mountain Bike
A mountain bike has many advantages. Not only mountain bikes but all kinds of bikes have many benefits. Similarly, they have advantages, they might have some disadvantages as well.
The advantages that a mountain bike provides are:
A person is supposed to ride a mountain bike in rugged areas, engaging the muscles in the body.
More mountain cycling will make your muscles more flexible.
It is a cheap ride for mountainous regions compared to other vehicles, such as heavy-duty cars or motorbikes.
It does not have any extra cost like fuel consumption or any others.
It does not pollute the environment and improves a person's health.
The disadvantages of a mountain bike are:
A mountain bike has many types; if you need to know what you are looking for, it might be a pain in the head.
If you buy a specific model with a particular use but try to get something else out of it, you might hurt yourself or risk your life.
Mountain Bike Sizing
Mountain bikes often come in three sizes that are small, medium, and large. The most common factor for mountain bike sizing is your height. Mountain bike size by height or mountain bike size by age are factors that matter in bike sizing.
Some sites have Mountain bike size calculators, making it easy for a person to calculate the bike size according to age or height.
The bike size calculators often give a less than 100% result. Therefore, you can use a mountain bike size chart or guide instead of a calculator.
| Mountain bike size | Frame size | Rider height | Rider height in cm | Frame Size |
| --- | --- | --- | --- | --- |
| Extra small | 13-14" | 4'10" – 5ft 2 inches | 148 – 158 cm | 13 – 14 inches |
| Small | 15-16" | 5'2" – 5ft 6 inches | 158 – 168 cm | 15 – 16 inches |
| Medium | 17-18" | 5'6" – 5ft 10 inches | 168 – 178 cm | 17 – 18 inches |
| Large | 19-20" | 5'10" – 6ft 2 inches | 178 – 188 cm | 19+ inches |
Conclusion
A mountain bike is supposedly considered the most robust bike of all. The reason behind it is its rugged framework, higher suspension, powerful brakes, wider tires, and many other features that make it strong.
When you want to buy one, there are several vital factors that you already know about, but the most important one is the size. The most important one is the sizing, and the knowledge of the types of bikes, as mountain bikes have many types.
You can gain an understanding of the kind from the mountain bike size guide to learn about the type of bike you want. For the size, you can see the mountain bike size chart.