Nuts are well-liked fruits with hard shells covering the kernel inside. They are abundant in calories and nutrients. Nuts are important to maintain a healthy body.
Let's look into the Nut calorie chart, to have a better understanding of the benefits these nuts offer. By comparing the Dry fruit calorie chart, you can also choose the best nuts or dry fruit to meet your daily dietary requirements.
The calories in nuts are good calories, which help in weight loss, reduce inflammation, lower blood pressure, and are likely to reduce the risk of stroke or heart attack.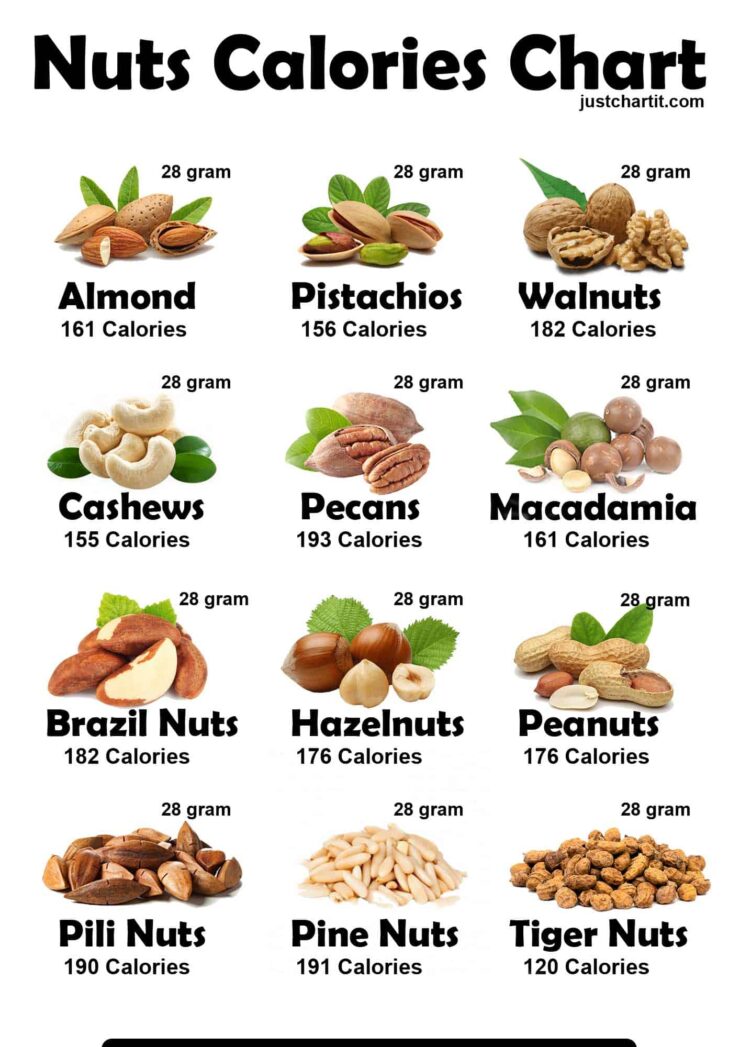 Calories in Almond
Almonds are famous for their health benefits. This nut is high in calories and fats. It provides 161 calories per 28 grams.
The antioxidants in almonds prevent aging, stress, and inflammation. Almonds are abundant in vitamin E Which makes them good for hair, skin, and diseases like Alzheimer's and cancer.
This nut is low in carbs but high in magnesium, which makes it an ideal snack for diabetic people. Almonds are popular for lowering cholesterol by lowering LDL which is proven by research.
A study has shown the use of almonds Increases plasma and red blood cells, promotes good cholesterol, and lowers the risk of cancer and blood pressure, But eating too many dry fruits might lead to toxicity, gut problems, and kidney stones.
Calories in Pistachios
Pistachio nuts are very advantageous. They serve 156 calories per 156 grams which are about 49 kernels. They are the lowest in calories among all nuts.
Pistachios are beneficial for overall health because they are enriched with potassium, proteins, and unsaturated fatty acids. Pistachios help in Lowering the risks of cancer, aging, diabetes, and heart attack.
They boost immunity, brain health, vision, and UV protection. Overeating these nuts may lead to nausea, bloating, or ache in the abdomen.
Calories in Walnuts
Walnuts provide 183 calories per 28 grams which is approximately 1/4th cup. This nut is enriched with omega-3 fatty acids, minerals, and vitamins.
According to research, these nuts contain more antioxidants than other nuts and stop atherosclerosis. They are anti-inflammatory, add to gut health, and control weight gain, diabetes, and blood pressure.
People who eat walnuts tend to age slower than those who don't consume these nuts. They are popular for the sake of the brain as they protect from Alzheimer's, anxiety, and brain damage by adding to the flexibility of the brain. Walnuts are beneficial for
Improving male reproduction
Keeping stress away
Make Bone healthy
Help pregnant women
Strong Hair and skin
 But some people can develop allergies to this Nut 
Calories in Cashews
Cashew nuts offer 155 calories per 28 grams. Cashew nuts are rather low in calories, sugar, and fats. That is why they are beneficial for weight loss, controlling blood sugar, and a healthier heart.
Cashew nuts contain copper, zinc, magnesium, iron, and phosphorus which makes them rank among the Healthiest nuts.
They prevent diabetes, oral health issues, and cancer. They boost immunity, vision, skin, bone, and muscular health
Calories in Pecans
Pecans have 193 calories per 28 grams. This nut is full of nutrients and benefits which makes it an ideal nut to snack on. Being a protein-rich nut, it keeps you full.
It contains Vitamin A, vitamin E, zinc, copper, potassium, magnesium, etc. It helps against brain problems like Parkinson's, Alzheimer's, and cancer.
In addition, this nut can save you from diabetes, bone problems, inflammation, and gallstones. Nutritionists suggest eating pecans for weight loss.
Calories in Macadamia
Macadamia offers 161 calories per 28 grams. Macadamia possesses high calories, fats, minerals, and a buttery flavor. It is better than many popular nuts as it contains good fats and calories.
Macadamia nuts, primarily, are known for weight loss. In the light of years of research, it is found that macadamia can prevent heart issues, diabetes, blood pressure, cancer, stress, brain damage, hunger, and obesity. This nut is beneficial if you are on a low-carb diet.
Calories in Brazil Nuts
Brazil nuts are filled with copper, selenium, potassium, magnesium, and thiamine. It maintains the balance of the body while burning fats and carbs into cellular energy.
This nut is known for improving male fertility, thyroid function, heart health, digestive, and immunity systems. This nut has mood-lifting properties. They aid in the control of zinc proportion, cholesterol, and hair loss in the body.
Calories in Hazelnut
Hazelnut is a well-liked nut with numerous benefits. They give 176 calories per 28 grams. Like all nuts, it is loaded with antioxidants, vitamin B6, folate, phosphorus, potassium, and zinc.
Hazelnuts improve the male reproductive system, digestion system, insulin sensitivity, and heart health. Meanwhile, they prevent inflammation, cholesterol, cell damage, and weight gain.
Calories in Peanuts
Peanuts are a high-calorie nut with 176 calories per 28 grams. Peanuts help against blood clotting, heart disease, and high cholesterol levels.
For vegans, it is a good source to get proteins they miss in meat. It provides energy and keeps the stomach full. It is equally good for eyes, bones, skin, and diabetes. Research has shown it decreases the chances of getting breast cancer.
Calories in Pili Nuts
Pili nuts are a great source of plant-based protein and calcium for vegan people. They contain vitamin E and all essential amino acids.
This nut is abundant in omega, 3,6, and 9. It maintains hormone levels. It is a good option to treat insomnia, anemia, the immune system, and mental health.
Also Read: Vegetable Calories Chart
Calories in Pine Nuts
Pine nuts are rich in vitamin A and Lutein. Pine nuts improve eyesight, bone density, and immunity. They fight free radicals in the body. Pine nuts are likely to suppress your appetite.
For vegans, this nut is also a great source of iron. Pine nuts have healing properties. Some of the nutrients in pine nuts are phosphorus, vitamin K, dietary fiber, vitamin E, calcium, manganese, zinc, and antioxidants.
Calories in Tiger Nuts
Tiger nuts provide 120 calories per 28 grams. Their taste is similar to both coconut and almond. They relieve constipation and allergies. Tiger nuts act as an aphrodisiac.
These nuts are full of calcium, magnesium, potassium, sodium, phosphorus, zinc, and vitamins E, C, and folic acid.
Doctors advise eating nuts to stay fit. Adding sufficient amounts of nuts to your diet can help provide protection against many diseases.
Nuts do have a lot of benefits but excessively eating nuts can cause hormonal imbalance and some other problems.