Protein is an essential macronutrient for body functions such as muscle building and tissue repair. The recommended amount of protein for an average healthy person is 8 grams per kilogram of that person's body weight.
If you are physically active like an athlete or are into sports, your protein intake should increase to at least 2 grams per kg of your body weight.
To increase your protein intake, you need to eat food with more proteins. But still, you have to be careful about your protein intake as over-intake can cause many health issues like high cholesterol, diabetes, etc.
Add seafood to your diet to achieve the daily recommended protein. It would be best if you ate seafood twice a week.
When you talk about protein, the first thing that comes to mind is meat and chicken. They are protein-rich foods with high calories and fats.
Therefore seafood is the best option, with an average amount of protein and almost no calories or fats. Eating seafood will keep you healthy as your body can achieve the average protein needs.
There are kinds of seafood with high as well as low proteins. To better understand the protein amounts in different types of seafood, follow the seafood protein chart below.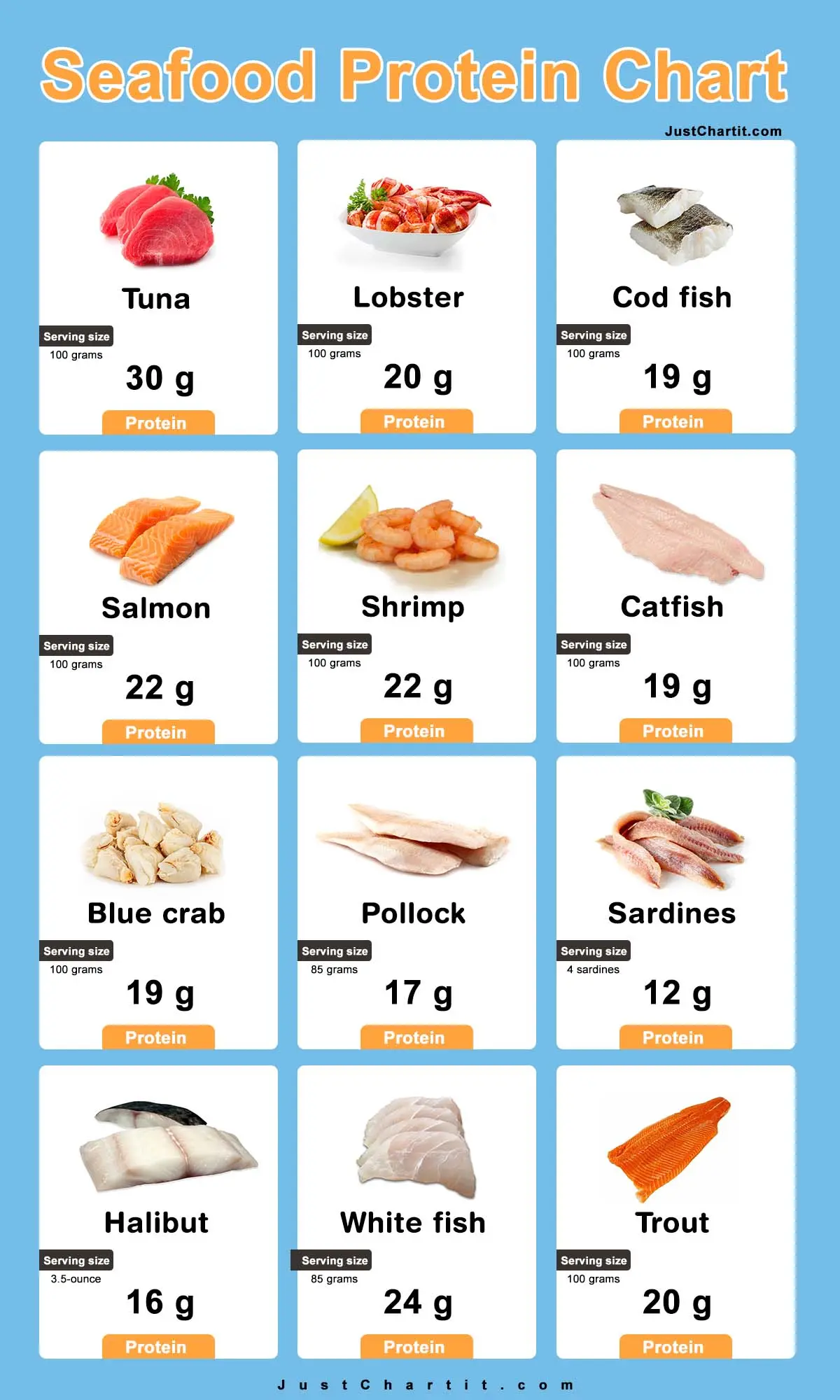 | Seafoods | Protein | Serving size |
| --- | --- | --- |
| Tuna fish | 30 grams | 100 grams |
| Lobster | 20 grams | 100 grams |
| Cod | 19 grams | 100 grams |
| Salmon | 22 grams | 100 grams |
| Shrimp | 22 grams | 100 grams |
| Catfish | 19 grams | 100 grams |
Seafood Nutrition Facts
Some crucial nutrients essentials for the body that seafood contains are as follows:
Proteins: Seafood includes many high-quality proteins with all the amino acids essential for the body. Eating 3 ounces of a cooked serving of most fish provides about one-third of the recommended daily amount of protein, determining the protein in seafood. Seafood protein is also easy to digest because of less connective tissue than red meats and poultry. It is a crucial diet component for older people with chewing problems, athletes, and normal adults, as the need for protein in all humans is almost the same.
Calories: Seafood is a low-calorie food item. Suppose you are health conscious and want to lose weight as well. It is a perfect option as it contains almost 100 calories or less per 3 ounces of cooked portion, which is way less than poultry products or red meat.
Fats: Seafood is low in fat and saturated fat as well. Different research firms and recent studies show that eating seafood reduces your fat intake by up to 30%. You also limit your saturated fat by adding seafood to your diet.
Thus these nutritional facts about seafood show that all health-conscious people, fitness freaks, and even patients need to add seafood to their diets to achieve protein without risking their health.
To see a clearer picture of seafood nutrients, take a peek at the seafood protein chart:
| Seafoods | Protein | Calories | Fats | Serving size |
| --- | --- | --- | --- | --- |
| Blue crab | 19 grams | 90 grams | 1 gram | 100 grams |
| catfish | 19 grams | 120 grams | 5 grams | 100 grams |
| cod | 19 grams | 90 grams | 1 gram | 100 grams |
Also read: Protein Digestion and Absorption Rate Chart
Types of Seafood
Seafood involves almost all aquatic animals, excluding mammals, including freshwater and ocean animals. These animals commonly involve fish and their different species.
Fish might be essential food for human beings after cereals. As fish furnish 15% of the world's protein intake, one might think that protein is also obtainable from ground animals such as cows and goats.
However, the concern is that these protein sources have almost double the number of calories and fats compared to fish meat protein.
Fish contains protein up to one gram for 4 to 10 calories compared to beef or poultry's 20-30 calories. Therefore fish is a go-to option for the perfect amount of proteins with a handsome number of calories.
As in beef and poultry, the protein level varies from low to high and moderate, as with fish.
Fish have countless species, some of which are high in protein, whereas some are low in protein. As you know, fish are of different species. Some of them are below.
Cod
Pollack
Prawns
Sardines
Crab
Salmon
Lobster
Shrimp
Halibut
Whitefish
Trout
These and many other fish species are crucial to achieving the daily protein limits.
| Seafood | Protein | Serving size |
| --- | --- | --- |
| Pollock | 21 grams | 100 grams |
| Rockfish | 20 grams | 100 grams |
| Trout | 22 grams | 100 grams |
High Protein Fish Meat
Fish is high-protein seafood, But the protein level in fish can be of two categories one is high, and the other is low. You can determine the amount of protein in 1kg of fish effortlessly. All you
I need to check the fish protein per 100 grams from the seafood protein chart. Below is a list of some high-protein fish.
Tuna
Fresh tuna is the fish species with the highest amount of protein per gram of any other seafood.
A 100-gram serving of fresh tuna contains about 30 grams of protein which is the highest by weight. It is edible in many forms; not only does fresh tuna have high protein, even canned ones are also high in protein.
Canned tuna protein amount is about 25 grams which is still higher than other kinds of seafood.
Octopus
Now the seafood you are about to witness might look weird, but believe it or not, octopus is a high protein seafood, and not only increased but very high. Like tuna, it contains about 29 grams of proteins in a single serving. It is a nutritious seafood containing all essential nutrients.
Trout
Trout fish is one of the most delicious seafood items. It is high in protein, low in fat, and contains vitamins and almost all the essential nutrients that benefit your body.
These fish are in ponds and clean river waters. It is servable whether fried or baked. These trout fish contain 26 grams of protein in a100 gram serving, which is a high number compared to other seafood.
| Seafoods | Protein | Serving size |
| --- | --- | --- |
| Trout | 22-26 grams | 100 grams |
| Octopus | 29 grams | 100 grams |
| Tuna | 30 grams | 100 grams |
Low Protein Fish Meat
As there are high-protein fish, Low protein fish are also available that a doctor recommends to protein intolerant patients and people facing several health issues. The below list shows fish species with low protein.
Crayfish
Crayfish is the kind of seafood with the lowest amount of protein. It contains 2 grams of protein per 100 grams of serving. This number is deficient if compared to other seafood.
Oysters
Oysters also are fish species—a shallow protein seafood kind. The protein amount in a serving of 100 grams of oysters is 5 grams.
Mussels
Another low-protein fish species is mussels. They contain 12 grams of protein in a single serving.
You just witnessed some of the high and low-protein seafood. Now it depends upon you which fish is best to eat for protein intake that suits your health and daily life activities.
| Seafoods | Protein | Serving size |
| --- | --- | --- |
| Mussels | 12 grams | 100 grams |
| Oysters | 5 grams | 100 grams |
| Crayfish | 2 grams | 100 grams |
Also read: Dal Protein Facts at-a-glance
Conclusion
Seafood protein is the most effective option for achieving the protein amount that different health organization