The shoes we wear in the house are called Slippers these are both for men and women. The slippers are easy to wear and take off from the feet.
When you want to quickly change your shoes. Most of the slippers are made of soft materials like cotton & Woven.
These Slippers keep the foot clean, soft, and warm. Slippers are more beneficial in hot and cool Weather.
Because slippers protect our feet from the hot and cold floor in extreme weather conditions. People who use outdoor shoes indoors.
You will see lots of dirt and gravel on their floor and they look very bad. if you want to avoid these kinds of situations start wearing slippers.
A variety of Slippers is available on the local market and Online stores. if you want to buy from an online store you have to know the exact size of the slipper for your feet.
but if you don't know the size then don't worry slipper size chart helps you to find feet-friendly slippers. We have both charts for men and women.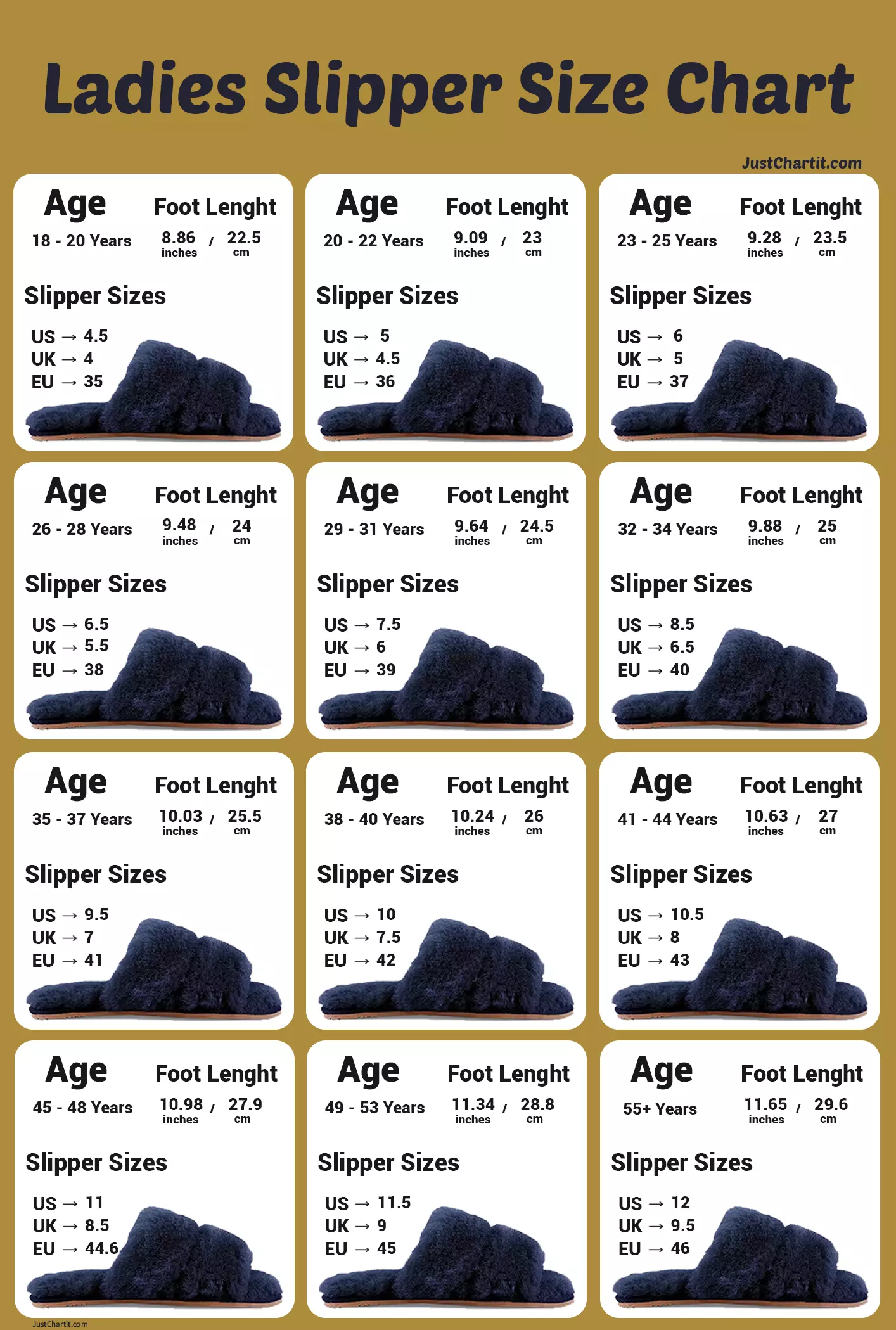 Women like slippers the most. Especially housewives because they have to do all the housework and stay home almost all day. slippers are helpful when you have to quickly change your shoes.
Read Also: Shoe Size Chart
On the other hand, men are not using slippers mostly like women. The main reason is that men spend most of their time out of the home. but when they are in a home they love to use slippers.
Men's slippers are also available in the market that's why we have designed a slipper size chart for men so that you can easily find the right slippers for your feet. The slipper size of the UK, US, and EU men are also added to this chart.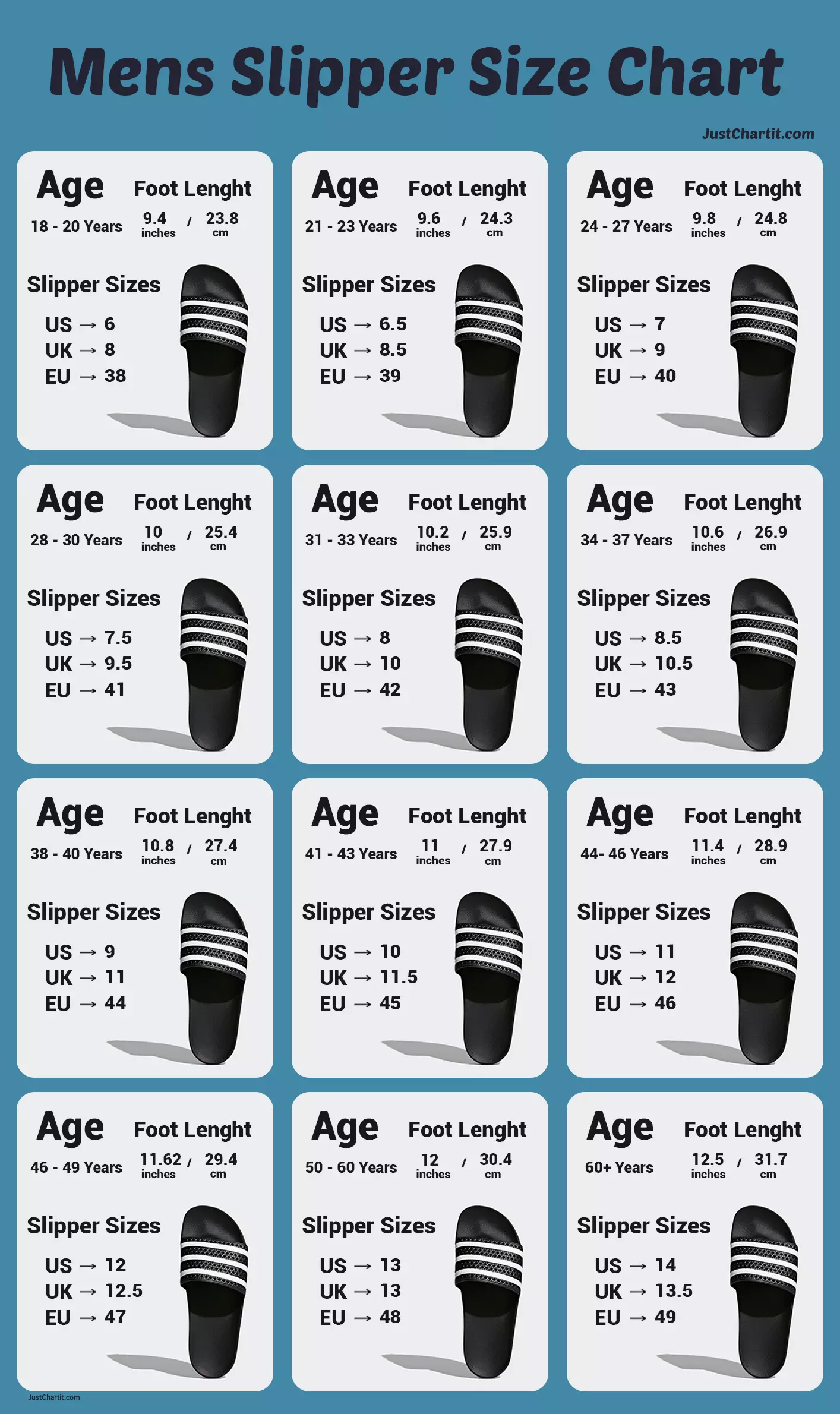 Also read: Adidas Size Chart
There are plenty of slippers available in the market, some of them mentioned below.
Types of Slippers
Clog
Scuff
Ballet
Sliders
Flip Flop
Moccasins
Bootie Slippers
House Slippers
Outdoor Slippers
Arch Support Slippers
The slippers are manufactured locally and internationally and are also sold by the best brands around the world.
Also read: Heels Size Chart
Best Slipper Brands
Crocs
Nike
Adidas
Ralph Lauren
Sketchers
International Slipper sizes units
Slipper's size is measured internationally in different units; each unit has a certain age group of people. This unit starts from Newborn babies to 60+ years old.
Finding Slippers size is easier when you know your international size unit. Let's see what the units are. and how they help.
| Age | Slipper sizes unit |
| --- | --- |
| 1 month – 7 Years | Small |
| 8 Years – 20 Years | Medium |
| 21 Years – 30 Years | Large |
| 31 Years – 50+ Years | X-Large |
Also read: Nike Jordan Size Chart
FAQs
How do I know my slipper size?
There are two ways to check your slipper size. The first way is that your age helps you determine the size of the slipper.
As Small size is for 1 month to 7 years old, a Medium size is for 8 to 20 years old, a Large is for 21 to 30 years old, and an X-Large Slipper size is for 31 to 50+ years old.
Whichever group you belong to, the size of that group will belong to you. The second method is to Measure your feet' length and Width then match your measurements with a Slipper size chart.