There are hardly a few calories in tea and coffee separately. But, adding milk or sugar as per your requirements can cause a significant calorie count in these beverages.
Because of its wide variety of coffee and tea specialized beverages, Starbucks is renowned. While a few of these drinks are calorie-free, others may blow in the calorie counter.
So, before placing your next order at Starbucks, you should read out this article and know how many calories your favorite coffees have.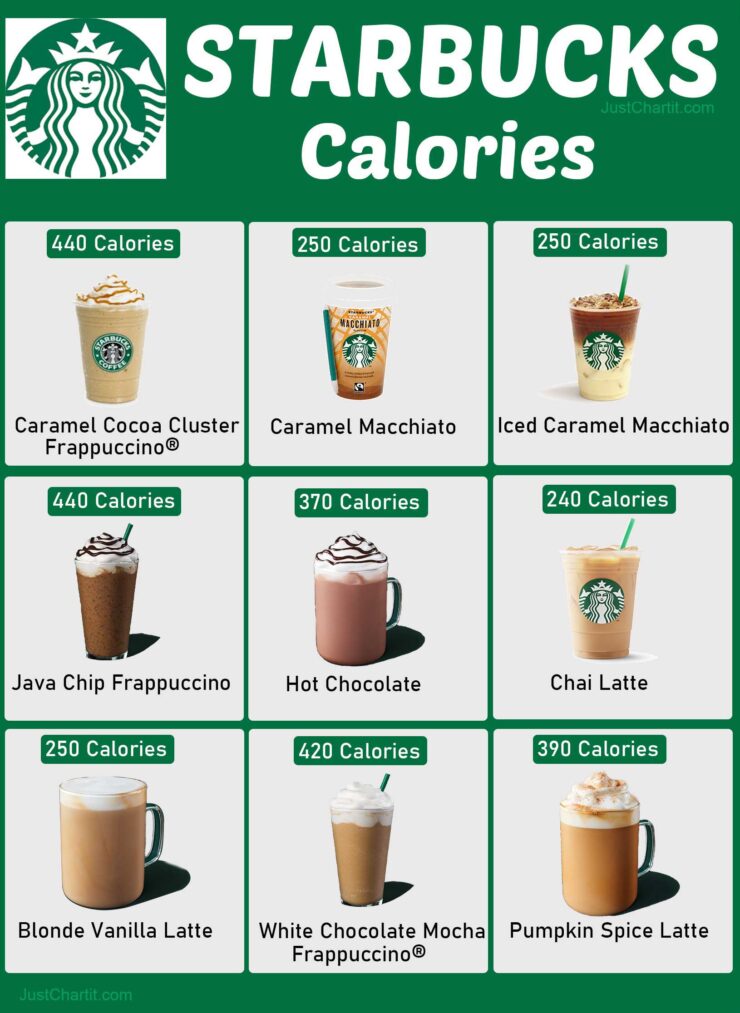 We have brought details of the Starbuck Calories Chart mentioned above. Have a look!
Calories in Caramel Cocoa Cluster Frappuccino
Frappes are everyone's favorites, especially when it comes to Starbucks. Frappuccinos are usually always full of fat, calories, and sugar.
So is the Caramel Cocoa Cluster Frappuccino, which is featured in our list as one of the calorie-loaded Starbucks beverages. It contains 440 calories per serving.
Caramel Cocoa's Frappuccino Grande size consists of 440 calories, 17 grams of fat, and 68 grams of sugar, produced from whole milk and topped with fluffy whipped cream.
Moreover, it has caramel sauce and a mocha sauce sprinkled on top. A large Cocoa Frappuccino Caramel Cluster includes 65 mg of caffeine, which is great for a midday kick.
But, if you are on a diet plan especially focusing on calorie-cutting, this shouldn't be on your preference list while visiting Starbucks.
Also Read: McDonald's Calories
Calories in Caramel Macchiato
A macchiato caramel is prepared using the glass with vanilla syrup, milk, foam, espresso, and caramel syrup. The caramel macchiato is usually the first pick of coffee consumers.
It is good for people who do not enjoy virgin coffee. It contains 250 calories. The caramel macchiato, sweet yet robust in flavor, is a wonderful option during those warm times when you're all in need of a refreshing drink and coffee booster.
But certainly, caramel macchiato is not an option if you're searching for a healthy Starbucks drink. A big serving includes 250 calories, saturated fat of 4.5 grams, and sugar content of 34 grams.
Although this drink also includes some protein (from the milk portion), it has no significant nutritional advantages.
Also, Read: KFC Calories
Calories in Iced Caramel Macchiato
There is no huge difference between a caramel macchiato and an iced caramel macchiato. Both contain 250 calories.
A large serving has 150 mg of caffeine and 33 g of sugars, says the Starbucks website.
You can also tailor your iced caramel macchiato to suit your diet or tastes and preferences.
There are many different options, such as switching to a non-dairy alternative such as oat or almond milk or adding espresso for a more robust taste in an additional shot.
Although you can alter and get nutritious ingredients in it, it will be a sugar bomb to your body if you become habitual to it. The amount of sugar is tough for your metabolism and can make it slow.
Calories in Java Chip Frappuccino
Java Chip Frappuccino contains 440 calories which is a notable amount. You will need approximately 40 minutes of running to burn those calories. The additional sugar (approximately 19 teaspoons amount) makes a big part of those calories.
The biggest frappuccino (16 oz.), primarily with whipped cream, is around 10 grams of saturated fat. And their addition of sugar significantly increases calories to around 400. Painful for health!
Also Read: Burger King Calories Chart
Calories in Hot Chocolate
A Large Hot Chocolate from Starbucks contains 370 calories. Most of these calories are fat and carbs (38 percent) (49 percent). These extra calories can increase your risk of heart problems and increase your waistline.
To put it briefly: a little one produced with non-fat but whipped cream has 250 calories. Expect additional 50–100 calories if you customize it with whole milk. If you want to cut calories, then go for almond milk.
Calories in Chai Latte
Chai lattes are undoubtedly wonderful. However, this delectable drink sadly falls into the less slimline section! A regular latte of Chai tea includes 240 calories and 45 g of sugar! That's the same as a big coke!
Well, just 80 calories in the dirty chai tea latte, so you can customize it. It has just 10 g of carbohydrates, 3 g of fat, and 1 g of protein! This drink is approximately 66% LEANER than a normal tea latte! With this sweetened boost, you can still enjoy the taste of chai with the calories!
Also Read: Subway Menu Calories Chart
Calories in Blonde Vanilla Latte
Blonde Vanilla Latte contains 250 calories. This won't affect your diet, mainly if you get it with free sugar-vanilla syrup compared to other things. About 8 grams of sugar is 2% milk, and I guess that the rest are syrup.
You can save around 19 grams of sugar per latte with the sugar-free syrup option! It is worth noting that 170 mg of caffeine is present in a big drink.
You may pick any milk, but I advise that you use almond milk to make it as low in calories as possible.
Also Read: Pizza Hut Calories Chart
Calories in White Chocolate Mocha Frappuccino
The White Chocolate Mocha Frappuccino Venti from Starbucks has 420 calories. The majority of the calories are derived from carbs (63 percent).
As per the brand, it "inspires devotion," however, only the flavor of white chocolate is available in the drink.
However, if you are trying to cut your calories, then in the "skinny" form, you may order this drink from Starbucks and replace the milk with a fat-free version, add unsweetened syrup, and no foam.
Calories in Pumpkin Spice Latte
According to the Starbucks website, 380 calories are in a large pumpkin spice latte with 2 percent milk and whipped cream. This comprises 14 g of fat, 50 g of sugar, and 52 g of carbohydrate.
Go for milk that is fat-free and has no cream. It will cut the calories in a big cup by 120, with 260 calories, 0 g of fat, 51 g of carbohydrates, and 49 g of sugar.
Opt for almond milk and no whipped cream for a somewhat lighter (and low-fat) variant. The beverage will hence reduce to 230 calories.