Did you know that calcium is the primary nutrient essential for the well-being of your bones, muscles, and even your circulatory and nervous systems?
Dairy (obtained through animal products) is considered the primary source of calcium which is fallacious, an abundance of plant-based sources also contain high amounts of calcium!
It's a common myth that circulates around us that vegans are calcium deficient! Well, it's not true! As it turns out, certain plant groups can absorb calcium at a higher rate than non-plant sources.
Vegans can still get all the calcium from their diet! Therefore, it's important to be aware of non-dairy sources of calcium to stay healthy.
We've made it simpler for you by creating a vegan calcium sources chart to make sure that you don't miss out on this essential nutrient even on a vegan diet.
Check out the vegan calcium sources chart below for some great options!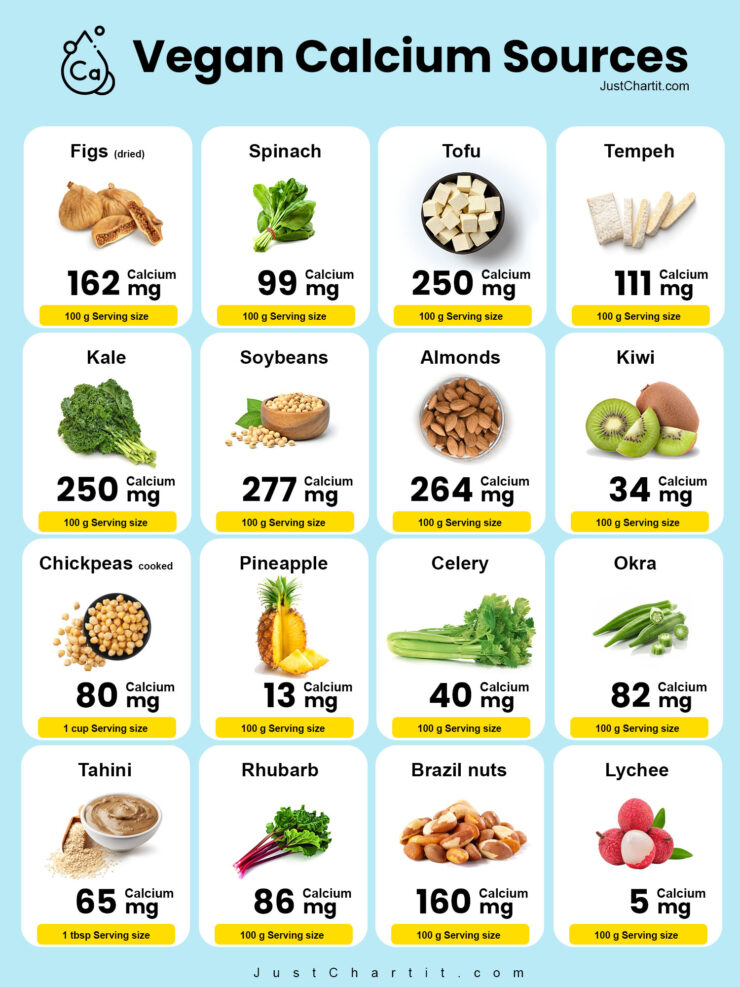 40 Vegan Calcium Sources
Are you aware of the fact that our body needs vitamin D to absorb calcium?
An inadequate amount of vitamin D can slow down the absorption of calcium which ultimately decreases the dietary calcium, resulting in osteoporosis & other calcium-deficiency diseases.
Therefore, it's important to consume such foods which contain calcium plus vitamin D. Luckily, several plant-based sources are rich in Calcium and vitamin D, such as leafy, green vegetables, grains, nuts, and fruits.
We've enlisted 40+ vegetarian sources of calcium in the article below.📃
Stay with us to discover the amazing food groups (plant-based) that are crucial for the intake of calcium to keep yourself healthy and active.
Vegan Foods High In Calcium
There exist some excellent sources of vegan foods high in calcium which are obtained from plants exclusively!🥦🥬🧆
Some of the best sources of plants include dark green leafy vegetables, some nuts, seeds as well as legumes and beans that can provide a significant amount of calcium when incorporated into a daily diet.
Wave goodbye to boring vegan meals and say hello to a world of delicious variety!
By mixing & matching foods from different food groups, you can easily get all the calcium you need. Check out our handy table and discover how to keep your bones strong while enjoying a happy, healthy diet.
Stay tuned as we'll reveal plant-based calcium foods in Table.1 of the vegan calcium sources chart.
| Food | Calcium Content | Serving Size |
| --- | --- | --- |
| Figs (dried) | 162 mg | 100 mg |
| Kale | 250 mg | 100 mg |
| Soybeans | 277 mg | 100 mg |
| Tofu | 350 mg | 100 mg |
| Blackstrap molasses | 667 mg | 100 mg |
| Almonds | 264 mg | 100 mg |
| Spinach | 99 mg | 100 mg |
| Collard greens | 232 mg | 100 mg |
| Tofu | 250 mg | 100 mg |
| Tempeh | 111 mg | 100 mg |
Calcium-Rich Foods For Vegan Toddlers
Being a parent to toddlers, you need to ensure that your little bubs are getting all the nutrients they need to grow strong and healthy. Calcium is particularly important for building strong bones & teeth.💪
Fortunately, there are many delicious & nutritious plant-based foods that are rich in calcium and perfect for your child's growing body!
Some of the best sources of calcium for vegan toddlers include:
Leafy greens like bok choy, okra, etc
Sesame seeds 🌱
Fortified plant-based pints of milk 🥛
Seaweeds
Sweet potato 🍠
Edamame
Chia seeds
By incorporating a variety of these calcium-rich foods into your child's diet, you can give them the foundation they need for a lifetime of good health. 🍲
To help you select the right amount of calcium-rich foods for your toddler, we've created a detailed Table below, Which provides in-depth information on various food groups.
| Food | Calcium content | Serving size |
| --- | --- | --- |
| Almond butter | 347 gm | 100 gm |
| Turnip greens, cooked | 200 gm | 1 cup |
| Okra | 82 gm | 100 gm |
| Chickpeas, cooked | 80 gm | 1 cup |
| Tahini | 65 gm | 1 tbsp |
| Almond milk | 120 gm | 100 ml |
| Celery | 40 gm | 100 gm |
| Mustard greens | 115 gm | 100 gm |
| Swiss chard | 51 gm | 100 gm |
| Apricots dried | 55 gm | 100 gm |
DR. MICHAEL GREGER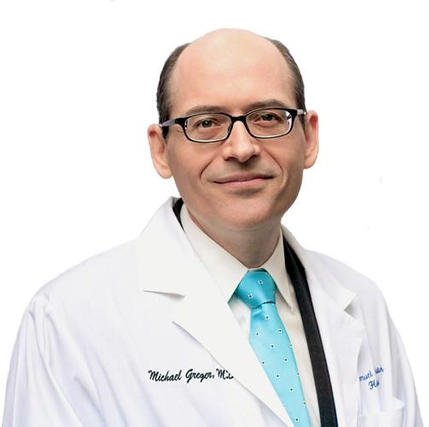 One of the famous nutritionists Dr. Greger, who is a famous American author and physician, has emphasized vegan diet and its positive effects on the environment as he says,
"A plant-based diet isn't a sacrifice, it's a gift to yourself and the planet."
Dr. Greger has written several books including "How not to diet" and "The how not to die cookbook" to help people adopt a plant-based lifestyle.
You can seek ideas through any of his above mentioned books if you ever run out of meal ideas!
Vegan Calcium Rich Snacks
Aside from main meal courses, snacks can provide a quick source of energy!
For those who religiously follow a vegan diet, calcium-rich vegetarian food makes a perfect match.
By dividing food groups into options before lunch and dinner, you can maximize the natural benefits of each meal and keep your body fueled throughout the day.
don't miss out on the opportunity to optimize your eating habits and feel your best – consider incorporating these options into your daily routine.
Before Lunch
Walnuts
Tomato skewers with tofu
Peas
Apple slices
Chia seed pudding
Calcium-fortified plant milk
Oatmeal's
Before Dinner
Hummus and veggies
Vegan crackers
Guacamole and tortilla chips
Smoothie bowl 🥣
Fruit and nut butter
Carrot sticks 🥕
Bell pepper slices
To assist you more in this regard, we've crafted a table to make it easier for you to consume the right amount of calcium from various foods.
Take a look at the table below for guidance.
| Food | Calcium Content | Serving size |
| --- | --- | --- |
| Rhubarb | 86 mg | 100 mg |
| Pinto beans | 113 mg | 100 mg |
| Kiwi | 34 mg | 100 mg |
| Cereals *fortified | 250 – 1000 mg | 100 mg |
| Brazil nuts | 160 mg | 100 mg |
| Artichoke | 44 mg | 100 mg |
| Wakame | 150 mg | 100 mg |
| Prunes | 43 mg | 100 mg |
| Pineapples | 13 mg | 100 mg |
| Lychee | 5 mg | 100 mg |
Final Words
With all that stated above, we'd like to conclude that vegan sources of calcium are an integral part of a healthy and balanced diet.🍽️
It's therefore mandatory to consume such vegan foods which are high in calcium and vitamin D to ensure proper absorption.
The vegan calcium sources chart provides a comprehensive list of 40+ vegan or calcium-rich vegetarian foods to keep your intake of calcium balanced throughout the day.
Other than foods, vegan calcium supplements are also available widely in the market to supplement the amount of calcium needed by an average body.
Furthermore, inadequate calcium can cause several deficiencies in toddlers, kids, and adults, resulting in different diseases.
Other than calcium, protein, and iron are two main nutrients required by the body to function properly!
For a detailed insight into these, go through vegan protein sources & vegan iron sources to guide you accordingly.