Vitamin C is an essential vitamin and is helpful in many body functions. It has a definitive role in the cure of many diseases such as scurvy, infections, and some types of cancers.
It is important for the immune system. It prevents the body from disorders. It also helps many enzymes that are essential in tissue repair. It also speeds up immune system functioning. It gives antioxidants from dietary sources.
It regulates many health conditions and prevents deficiency diseases. Here is a detailed description of the Vitamin C fruits and vegetable chart given below: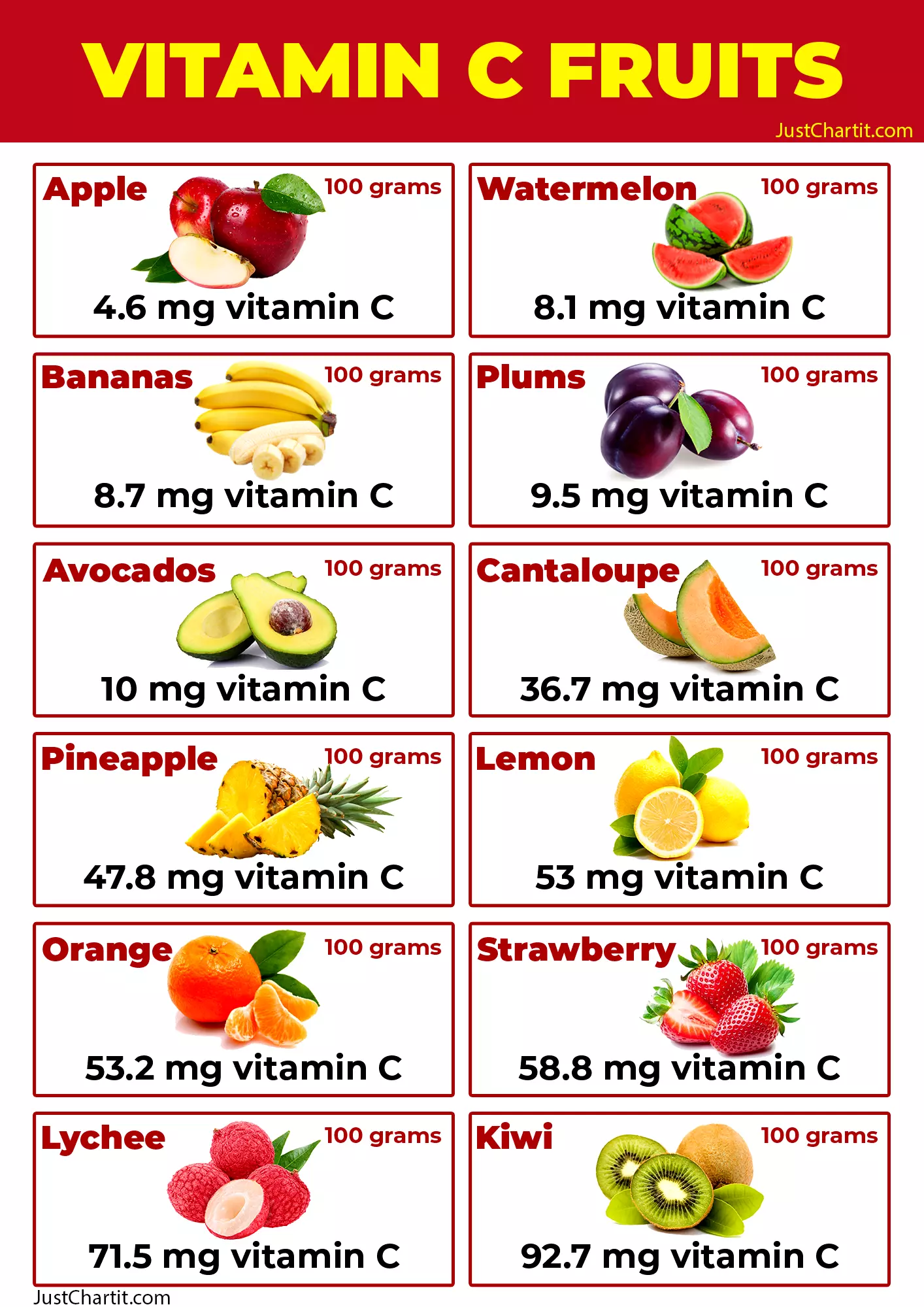 Vitamin C Rich Fruits list
Here is the Vitamin C rich fruit list as below:-
Vitamin C in Apple
The nutrients present in apples per 100 grams serve 4.6 mg of vitamin C. It gives about 52 calories in total. It is a rich source of fiber, Vitamin C, and various antioxidants that give many health benefits.
100 grams of apples provide a minor amount of protein which is 0.3 grams. The carb content in apples is 13.8 grams, sugar 10.4 grams, and fiber 2.4 grams.
The fiber present in apples boosts digestive functions and promotes gut health. Apples also protect against diabetes and level up the blood glucose level.
Also read: Sugar in Fruits Chart
Vitamin C in Watermelons
100 grams of watermelons give 30 calories in a single serving. Watermelon consists of water content with low calories.
The carb content in it is 7.6 grams. It gives you 6.2 grams of sugar and 0.4 grams of fiber. It is the richest source of Vitamin C which is 8.1 mg.
It has plenty of nutrients but provides few calories. Watermelons are big in size and sweet in taste. It is a refreshing fruit but gives powerful benefits. Watermelon improves insulin sensitivity and helps to cure muscle soreness.
Vitamin C in Banana
One medium-sized banana around 100 grams provides 89 calories. The protein content in it is 1.1 grams, 22.8 grams of carbs, 12.2 grams of sugar, and a decent amount of fiber.
One banana gives you 8.7 mg of vitamin C which is good enough to promote health. Bananas are a high source of potassium.
It promotes heart health and also normalizes blood pressure. It also contains prebiotics that prevents gut disorders.
Also Read: Zinc Rich Foods Chart
Vitamin C in Plums
A mature plum serving of 100 grams gives 46 calories. It provides 7.5 grams of carbs, 6.6 grams of sugar, and a decent amount of Vitamin C which is 6.2 mg.
Plums contain occurring sugar that stabilizes the blood sugar level. Plum contains antioxidants and other minerals that give potential benefits.
Plums promote the immune system and slow down the process of aging in older people. It is also helpful in controlling cholesterol levels and has cardioprotective properties.
Vitamin C in Avocados
Avocado is a fatty fruit, but it is rich in Vitamins and minerals. They have a unique nutrition profile due to the high amount of multivitamins. 100 grams of avocados gives 160 calories.
It contains very little sugar which is 0.66 grams. The carb content in avocados is only 1.8 grams. Avocados provide 6.7 grams of fiber which is quite high.
Avocados regulate appetite. It reduces the risk of many diseases such as stroke, obesity, depression, and heart disease. Avocado oil is healthy and protects against inflammation.
Also read: Anti-inflammatory Foods
Vitamin C in Cantaloupe
100 grams of cantaloup gives 34 calories, 16 mg of sodium, 8.1 grams of carbs, and a lot of vitamins and minerals. It is rich in vitamin C content which is 36.7 mg, and vitamin A 169 mcg. Its nutritional value is quite high.
Cantaloup is a sweet, juicy, and refreshing fruit of all time. It is bursting and loaded with beneficial vitamins. Cantaloup prevents chronic inflammation in the body and contributes to disease management. It also promotes eye health.
Also read: Acidity Level Fruits
Vitamin C in Pineapple
Pineapple is a common fruit around the world. 100 grams of pineapples gives 50 calories. They are rich in Vitamin C which is 131 percent. It serves a small amount of protein, fats, fiber, and sugar.
Daily eating pineapple can cure the body of heart diseases. It also decreases the risk of obesity, asthma, and diabetes. The high potassium content in the pineapples regulates blood pressure. It lessens the threat of cancer.
Vitamin C in Lemon
100 grams of lemon gives 29 calories only. It is rich in water content and protein. Lemon is a taste increaser.
Lemons are a rich source of fiber, vitamin C, minerals, and many other ingredients. Vitamin C richest fruit lemon serves 53 mg which is quite enough.
Daily taking of lemon as a sauce on a salad can decrease blood pressure risk. It is a good source for heart health. It has enough Vitamin C. It is also helpful in removing kidney stones and reducing anemia.
Vitamin C in Orange
Orange is the most popular fruit because of its taste and refreshing nature. They are healthy and packed with Vitamin C, fiber, antioxidants, and folate.
100 grams of orange gives 47 calories in total. It is rich in Vitamin C amount which is 53.2 grams.
Vitamin C present in oranges gives many health benefits. They make the skin firm and radiant which is the desire of the young generation. It also prevents kidney stones and anemia.
Vitamin C in Strawberry
Strawberries are a good source of Vitamin C and a decent source of folate and potassium. It contains a minor amount of fats which is 0.3 grams, 2 grams of fiber, and 4.9 grams of sugar. The calories are only 32 with 0.7 grams of protein.
Fresh strawberries are the richest source of Vitamin c and are safe for diabetic people. Strawberries are good for reducing the risk of cancer, heart diseases, and diabetes.
Vitamin C in Lychee
Lychees are tropical fruits and have anti-inflammatory cardioprotective properties. Its nutritional profile is very high. 100 grams of lychee provides only 66 calories.
It is very rich in Vitamin C content which is 71.5 mg. The fiber content in lychee is 1.3 grams. The carbohydrates in lychee are 16.5 grams.
Lychee contains rich sources of plant compounds and prevents cancers, tumors, and diabetes. It is also healthy for liver functioning.
Vitamin C in Kiwi
Kiwi has a lot of nutritional benefits. Kiwi is a sweet way to add vitamins and major minerals to the diet. They are a good source of potassium, fiber, and vitamin C.
100 grams of kiwi provides only 42 calories. 10.2 grams of carbs, and 2.1 grams of fiber. The sugar content in it is quite high which is 6.7 grams. Vitamin C content in kiwi is 56 mg. Kiwis have no bad effects at all.
Kiwi aids in the prevention of anemia and cures cold symptoms. It helps to keep the cholesterol level down and protect the cardiovascular system. Due to high fiber content, it improves digestive ability.
Vitamin C Rich Vegetable list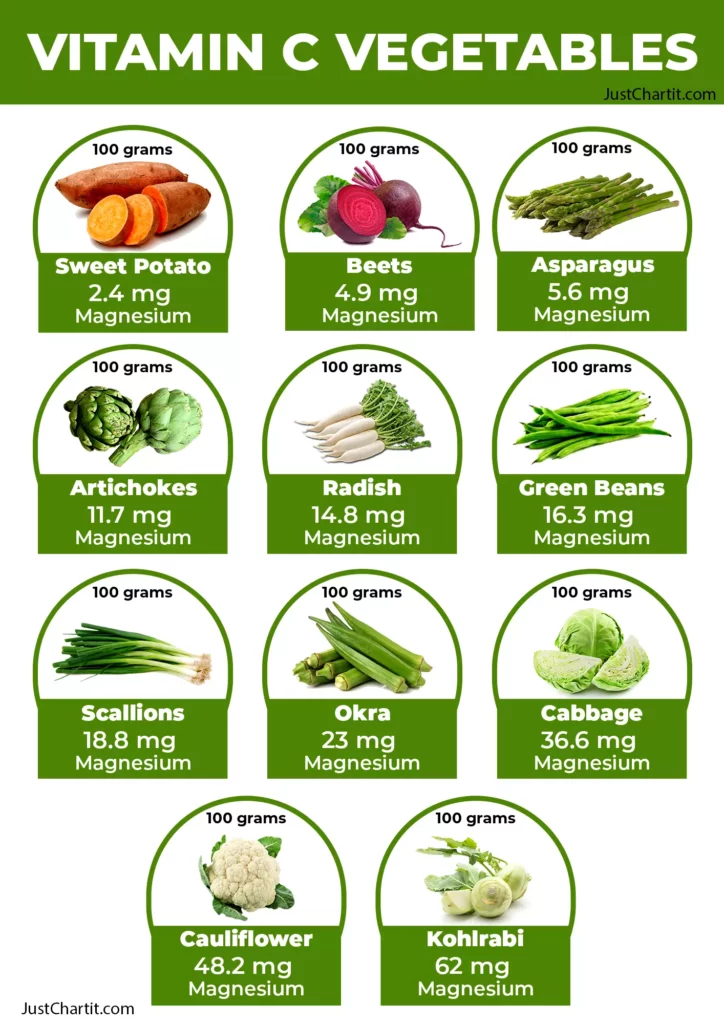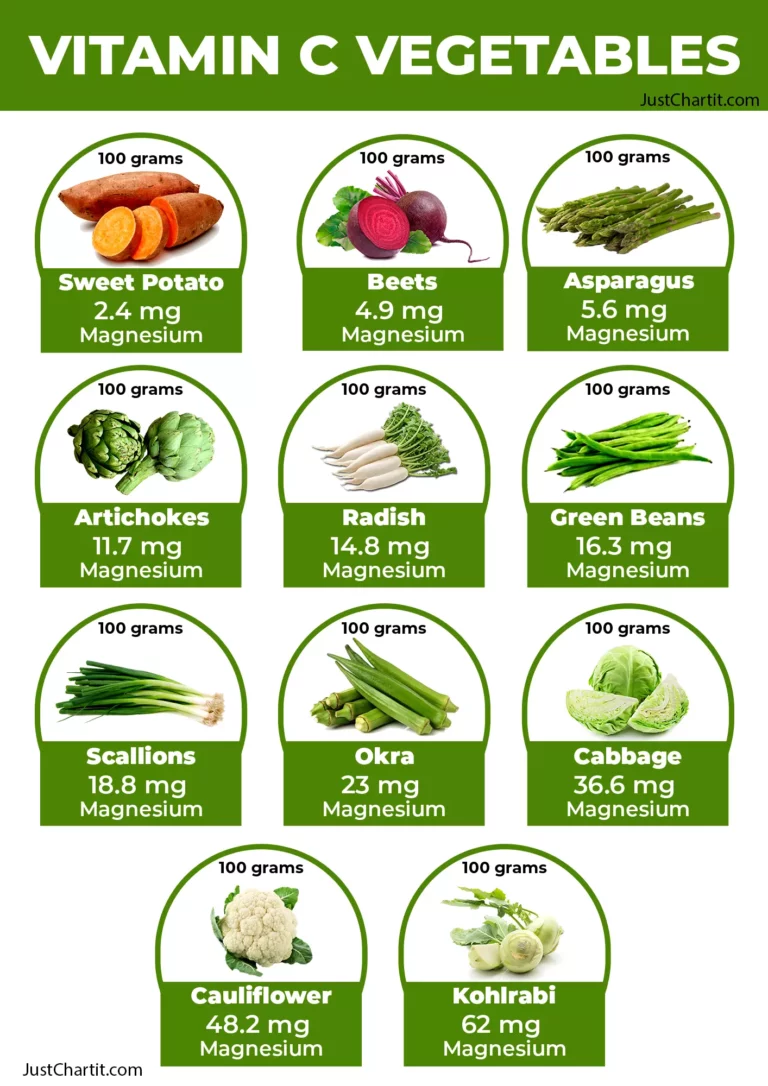 Vitamin C in Sweet Potato
Sweet potatoes are nutritious and delicious vegetables. It is the most favorite vegetable of winter. 100 grams of sweet potatoes contain 86 calories that are quite enough to work.
The protein content in it is 1.6 grams. The carbs content is 20.1 grams. It is also rich in magnesium content which is 2.4 mg.
Sweet potatoes give many health benefits. They play an important role in the prevention of vitamin A deficiency. They improve blood sugar regulation and increase insulin sensitivity.
Vitamin C in Beetroot
Beetroots are a great source of a variety of minerals. 100 grams of beetroot gives 43 calories and 1.6 grams of proteins. 9.6 grams of sugar and 2.8 gram of fiber is also the content of beetroot.
Beetroot has very high nutrients. They help to lower blood pressure which is the cause of sudden deaths. Beets increase exercise capacity and boost oxygen use.
Vitamin C in Asparagus
100 grams of Asparagus contains 22 calories only. It also has a minor amount of Sodium and Fat content. Vitamin C in 100 grams of asparagus serves 5.6 mg. It is the richest source of Vitamin A and C.
Asparagus is rich in Vitamin K content which helps in bone health and blood clotting. It is also rich in antioxidants which reduce the heart attack risk.
Vitamin C in Artichokes
Artichokes are fat-free and nutrient-rich vegetables. It contains potassium, fiber, vitamin C, and magnesium content.
The magnesium provided by 100 grams of artichokes is 11.7 mg. It is a filling and nutrient-high vegetable that is rich in sodium 120 mg. It gives only 60 calories in total.
It improves liver function and also reduces the threat of high blood pressure. High potassium content in it regulates blood circulation.
Vitamin C in Radish
100 grams of radish gives only 9 calories. It is rich in sodium content which is 23 mg. It also contains a minor amount of carbs, sugar, and fat.
Radish is full of antioxidants and Vitamin C. Eating 100 grams of radish can reduce diabetes risk. It helps the kidney to perform well.
Vitamin C in Green Beans
100-gram green beans contain 28 calories. It is rich in carbohydrates content which is 5.66 grams. It also contains 2.6 grams of fiber.
They are rich in protein but low in calories. Green beans are high in antioxidants and Vitamin C.
It has many health profits. It lessens the risk of cancer. It is good for women of childbearing age. It increases fertility in both genders.
It also has a brain soothing effect. The high content of vitamin K reduces bone fracture in older people.
Vitamin C in Scallions
100 grams of Scallions contains only 32 calories in total. It contains essential vitamins and minerals such as sodium and vitamin C. It contains 5.5% of calcium and 8.2% of iron. The magnesium content in scallions is 18.8 mg.
Scallions are an excellent source of multivitamins that reduces cancer risk. It is also a hurdle for obesity and blood pressure. It can tackle diabetes in a good way due to its high nutritional profile.
Vitamin C in Okra
Okra serves only 33 calories in 100 grams of serving. It comes in red and green colors. The carb content in it is 7 grams and its magnesium content is 14%.
It also has the antioxidant ability to fight against cancer. Okra is rich in Vitamin A, K and B6.
Okra reduces heart disease and maintains blood cholesterol levels. It is also associated with anticancer properties and fights against inflammation.
Vitamin C in Cabbage
Cabbage is a famous vegetable and versatile due to its variety. 100 grams of cabbage gives only 22 calories. It is good for your health. The carbohydrate content is 5.2 grams with 1.1 grams of protein.
It has a defensive property against diseases. The multivitamins present in it support brain health. It also gives the skin a glowy and neat effect. It reduces lung and breast cancer threats.
Vitamin C in Cauliflower
Cauliflower is a versatile vegetable that supplies nutrients in a high amount. It gives only 31 calories in 100 grams. 3.3 grams of protein and 2.7 grams of carbohydrates are also present. It is rich in fiber, which promotes gut health.
The antioxidant properties of cauliflower contribute to combating many health conditions. It also protects against hypertension and stroke.
Vitamin C in Kohlrabi
It is also a vegetable from the cabbage family. The calories by taking 100 grams of kohlrabi are 32 cal. 8 grams of carbs, 5 grams of fiber, and 2 grams of protein are also its content. It is rich in Vitamin C, B6, and potassium.
It provides a high amount of antioxidants that protect the body cells. It supports a healthy immune system. It also reduces the risk of a heart attack.
Also Read: Potassium Rich Foods Chart
FAQ
Which Fruit is Highest in Vitamin C?
Kiwi, plum, and orange are rich in vitamin C. It is enough for body health. Plums are highly packed with Vitamins. 
All the fruits and vegetables are rich in different vitamins and minerals. We should choose fruits in our daily food plate according to the above Vitamin C fruits chart.